Origin of the invocation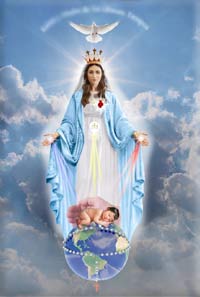 Feast day: August 28th
Patronage: Disciples and Apostles of the End Times
Our Lady of the End Times – also known as Queen and Mother of the End Times – is a title with which the Blessed Virgin Mary is venerated in the Catholic Church.
It has its origins in revelations to a woman born in Costa Rica, named Luz de María de Bonilla. She has stated that since her youth she has witnessed several heavenly manifestations such as internal locutions, visions, dictations and manifestations in religious images.
The messages and dictations that Luz de Maria receives to transmit to all humanity possess a great prophetic and eschatological content, dealing with issues and topics critical to the development of human life both materially and spiritually.
Some noteworthy and recurring topics are the increase in natural disasters such as earthquakes and volcanic eruptions, new unknown illnesses to emerge that will wreak havoc and how to combat them, solar activity in relation to a future technological setback for humanity and the proximity of the 'Warning' (announced in Garabandal and other Marian revelations).
First period: preparation and discretion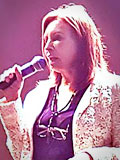 Luz de María stated that during the Holy Week of 1990 there was a definitive meeting with the Blessed Mother.
The Virgin Mary announces to her the physical recovery from a disease she was suffering and welcomes her in a special way, preparing her for the meeting with Her Divine Son.
Thus begins a long journey during which they subtly clarify the mission that Heaven had designated for her. Christ and the Blessed Mother gradually prepared her, requesting her discretion in this period.
Second period: Instrument of Heaven
After a long wait, Heaven commands her to transmit to all humanity the Divine Word that she has received and continues receiving. In this period the messages, dictations, visions and manifestations that Luz de Maria receives are made public. A website is organized for this purpose (revelacionesmarianas.com) in which messages are published in several languages. Messages published from year 2009 onwards can be accessed on the site.
Title of the invocation and meanings of the accompanying image
In the dictation to Luz de Maria corresponding to December 1st, 2017, the Virgin Mary expresses that She has received from the Holy Trinity the title of "Our Lady of the End Times". In a later dictation, Jesus Christ confirms this title and expands it by granting Her the title of "Queen and Mother of the End Times" (see dictation of May 13, 2018):
I NEED YOU TO GIVE MY MOTHER THE HONOR THAT ALL CREATURES MUST RENDER TO HER. OUR TRINITY HAS GIVEN HER VARIOUS TITLES THROUGHOUT THE WORLD, INCLUDING "OUR LADY OF THE END TIMES", BUT GIVEN THE GRANDEUR OF THIS INSTANT IN WHICH MY PEOPLE MUST CONTINUE BEING FAITHFUL AND LOVING IN OBEDIENCE TO MY MOTHER – WOMAN OF FAITH, SURRENDER, OBEDIENCE, WHO DOES NOT TIRE OF WARNING MY PEOPLE, AS A FAITHFUL DISCIPLE, OUR TRINITY GRANTS HER THE TITLE OF: QUEEN AND MOTHER OF THE END TIMES, SO THAT HUMANITY WOUL RECOGNIZE IN HER THE WOMAN WHO WILL OVERCOME EVIL AND CRUSH THE HEAD OF THE INFERNAL SERPENT AND CHAIN HIM SO THAT HE DOES NOT COME BACK TO SEDUCE MEN.
Our Lord Jesus Christ to Luz de Maria - May 13, 2018
In Luz de Maria's comment to the message of Blessed Virgin Mary dated July 30, 2018, she notes that the invocation had already been revealed to her on August 28th, 2006 (approximately 11 years earlier) and that by the beginning of 2018 the Blessed Mother guided her towards an artist who would faithfully represent Her, who finally produced the image for this invocation, signing with the name "de paula".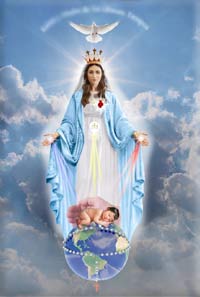 Luz de Maria shared later the words of Blessed Virgin Mary that explain the meaning of the various image attributes. This text does not appear within the published messages, but in the section on the Novena, and has no date of dictation (although based on the commentary of July 30th 2018, it should have been made public on August 15th, 2018, Feast of the Solemnity of the Assumption of Blessed Virgin Mary to Heaven):
"Upon My image rests the Holy Spirit, of whom I am Temple and Tabernacle.
My Crown has three Crosses: the middle Cross belongs to My Son's Cross, the one on the right to remind you of Divine Mercy and how the repentant thief attained forgiveness and won Heaven, and the one on the left for you to keep in mind the one who mocked My Son, being on a cross, and condemned himself.
The Scapular on My Chest is a sign of the commitment that My children have so that their life be alike to Mine: in obedience and faith to the Word of God.
My Sacred Heart illuminates the life of men and, in the end, My Immaculate Heart will triumph.
In My Womb, My Son is seen in the Holy Eucharist, unfolding His Love through yellow rays.
On the wrists of My Hands you will notice a star, so that you remember that I am the Morning Star of the New Dawn and guide the People of My Son.
My Hands shine with light so that My children do not go astray and see the light of the beacon of My Hands, from which rays emanate that converge with the rays of My Son, present in the Holy Eucharist and deposit themselves in blessing on the newborn child, who represents, in the first place, Our beloved Angel of Peace-fruit of the Trinitarian Will-who is presented to Humanity by the Hand of God the Father who is guarding him. Second, the child represents the Holy Remnant. That Holy Remnant that is being protected and maintained on the Earth of peace, by the Hand of God the Almighty Father.
The Earth, at this instant, is surrounded by My Holy Rosary, just as the renewed Earth will continue to be surrounded by My Holy Rosary. And with each Our Father and every Hail Mary that you have prayed in the Rosaries and in other prayers, you have multiplied them to infinity, because prayers will always bear fruits of life and in abundance.
The Earth is shining, and the darkness will have passed.
My Invocation represents the Hope of a new Heaven and a new earth.
Amen.
Blessed Virgin Mary, August 2018
Imprimatur
The first imprimatur of this invocation has been publicly transcended, granted by the Bishop of the diocese of Estelí, Nicaragua, Msgr. Juan Abelardo Mata.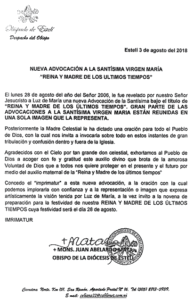 The translation of the Imprimatur reads as follows:
Estelí August 3, 2018
NEW INVOCATION OF THE BLESSED VIRGIN MARY:
¨QUEEN AND MOTHER OF THE END TIMES¨
On Monday, August 28 of the year of the Lord 2006, a new invocation of the Blessed Virgin Mary was revealed to Luz de María by our Lord Jesus Christ under the title of "QUEEN AND MOTHER OF THE END TIMES". A GREAT PART OF THE INVOCATIONS TO THE BLESSED VIRGIN MARY ARE GATHERED IN ONE SINGLE IMAGE THAT REPRESENTS HER.
Later the Heavenly Mother dictated a prayer for all of God's People, with which She invites us to invoke Her especially in these instants of great tribulation and confusion inside and outside the Church.
Grateful to Heaven for such a great heavenly gift, we exhort the People of God to receive with faith and gratitude over this divine help that springs from the loving Will of God that wants to protect all of us in the present and the future through the maternal help of the "Queen and Mother of the End Times"
I grant the "imprimatur" to this new invocation, to the prayer with which we can implore Her with confidence and to the representation or image that artistically expresses the vision had by Luz de María, at the same time I extend the invitation to participate in the novena to prepare for the feast of our ¨QUEEN AND MOTHER OF THE END TIMES¨ whose feast day will be on August 28th.
+ Msgr. Juan Abelardo Mata Bishop of the Diocese of Estelí
Biblical foundation of the revelations
Throughout history, God has spoken to humanity not directly but through prophets (with the exception of the short time span in which Jesus Christ spoke to men during His public life), whom men should believe, not because of the prophet's special reputation, but because of the very content of the message itself, understanding that in God's filial relationship with man, the latter can recognize those words that come from God and distinguish them from those that are fruit of human intelligence (cf. Jn. 10:27 "My sheep recognize my voice, I know them, and they follow me").
Already announced in Amos 3:7, God does nothing without first notifying his servants the prophets. In the same path we understand that future events were broadly marked in St. John's Book of revelation, perhaps in a veiled (and limited) way, and that as times go by and the instant of the events draw near, God illuminates specific issues through which humanity must go through at a certain point in human history. But this continually requires believing the prophets who receive the messages from Heaven, duly applying discernment.
Biblical references: Jn. 14:26; Jn. 15:26; Jn. 16:13; Jn. 16:25; Amos 3:7; Gn. 18:17; Jer. 7:25; Pss. 25:14; Jn. 15:15; Jas. 2:23; 2Pe. 1:21; 1Thes. 5:20; Eph. 4:11-12; 1Cor. 12:28; 1Cor 14:17; 1Cor. 14:29-32; Lk. 24:25; Rev. 12:1.
Topics covered in revelations to Luz de Maria
The public appearance and world dominion of the Antichrist
Implantation of the Microchip in the human body, seal of the antichrist
The Purification of humanity and the need to prepare spiritually
The second coming of Christ
The Warning, the Miracle and the Chastisement
The Three Days of Darkness
The Failure to fulfill BVM requests at Fatima
The Church and a coming «major schism»
Nuclear energy
Third World War, the use of nuclear weapons
Solar activity and how it will make fall man's technological advances
Health recommendations in the face of food contamination. Use of Medicinal plants
Famine, plagues and new unknown illnesses to come
Activity of volcanoes and powerful eruptions. Earthquakes
Rebelliousness and social upheavals, moral depravity.
Terrorism
Fall of the world economies
The Weather. Signs of the Times
The Family
Asteroids. Impact of an asteroid, the change of terrestrial geography
The evil of Communism and its apogee
Our Spiritual Senses and how to exercise them
The soul
Freemasonry and the anti-Christian 'elites' that govern humanity
Revelations and forewarnings of hard onslaughts for humanity
The revelations under discussion offer answers to difficult approaches that man often makes in adverse situations, questions such as 'why does God allow this?', 'How can God do these things if He is good?'.
Nowadays, humanity stands far away from God, being man a carrier of pain for his fellowmen by adopting sin as a way of life. This global trend attracts divine justice and punishment, since humanity, by directing its will in this way, is deprived of God's grace, being rejected by man.
However, God forewarns all humanity in advance of the difficult instants it will go through as part of this 'Purification', so that no one can argue that they had not been previously warned, besides that this purification is not so much executed by God but by man himself, who in his estrangement from God, becomes a bearer of evil for his brothers and sisters.
Beloved:
Open the eyes of your brothers by becoming tactful and kind messengers of peace and love. Make them realize that that which We have been announcing for so long and was already written will come to pass, because nothing comes to pass before I announce it to my people, my Israel.
YOU ARE MY ISRAEL: because my Israel are my faithful ones, those who commit themselves to Me, those who resurrect with Me, but before resurrecting they pass through the crucible. It is in this crucible where man will continue to whip his fellowmen.
Our Lord Jesus Christ to Luz de Maria - Jan. 2009
You are My children, and around the world I announce to you, time and time again the events that draw near. You are already suffering the attacks of those who feel they possess the human power in the world, and you are already suffering the attacks of nature as it rebels against man and his sins.
Blessed Virgin Mary to Luz de Maria - Jul. 25, 2009
Little children: I invite you to reflect on My calls, so that you see how everything is being fulfilled little by little. I warn you, because nothing comes without Me warning you beforehand. Do not spurn My calls and those of My Mother. There will come times of lamentation in which you will be sorry for rejecting My calls. In those moments you will fall on your knees and I will be there with My Mercy to welcome you.
With sorrow I know that many of My own will not believe, even when they live pain in the flesh. I will continue to be despised, until everything has poured out over humanity, then I will return as King and Judge.
Our Lord Jesus Christ to Luz de Maria - Apr. 03, 2010
Children, do not continue to wait for what the false prophets announce to you: complete happiness without purification. You My children, do not like to hear My Word when it announces to you what is coming. As Loving Father I announce to you so that you prepare. My true prophets are few, very few, and they announce My Word with veracity, BEFORE THE IMMINENCE OF ALL THAT HUMANITY IS ALREADY LIVING. THIS THAT YOU LIVE WILL NOT STOP, EACH INSTANT WILL BE MORE DIFFICULT THAN THE LAST.
Our Lord Jesus Christ to Luz de Maria - Feb. 03, 2011
If you do not understand, ask My Holy Spirit for the Gift of Understanding, remember that "to whom much is given much is asked." And you, My People, receive everything and more than that all that you need, because I previously announce to you the events out of Love, out of My Infinite Love for you.
Our Lord Jesus Christ to Luz de Maria - Nov. 30, 2011
I alert you because I love you, I announce to you what is coming because I love My People, because I Am who Am…
Our Lord Jesus Christ to Luz de Maria - Apr. 29, 2013
MY LOVE WALKS ALONG THE PATHS OF MY CHILDREN, ANTICIPATING THE ATTACKS ON THE ROAD…
I WARN YOU OF ALL THAT IS COMING FOR YOU TO PREPARE.
Our Lord Jesus Christ to Luz de Maria - Dec. 28, 2014
I AM MOTHER OF HOPE AND I CONTINUOUSLY CALL, ALERT, ANNOUNCE; I STOP AND WARN MY CHILDREN TO TAKE THE COURSE TO WHICH I CALL YOU TO AVOID UNNECESSARY PURIFICATIONS.
Blessed Virgin Mary to Luz de Maria - Apr. 04, 2015
AS GOD, I DO NOT ABANDON MY OWN. MY CONSTANT CALLS ARE TO ALERT YOU OF THE EVENTS THAT ARE IN FRONT OF YOU. I ALERT YOU OUT OF LOVE. I ALERT YOU OUT OF LOVE.
No event will ever come to pass without My encouraging you to come to Me ahead of time. No event will ever come to you impromptu because I alert you first. My Mercy is so infinite that wherever I see a drop of My Sons' love, I go there and I form a fathomless ocean of My Mercy for all My children. This is precisely why I am alerting you and I call you to be obedient children at these instants.
Our Lord Jesus Christ to Luz de Maria - Aug. 04, 2015
I am wounded by those who from the pulpits deny My Announcements.
I am wounded by those who continue saying that I am not a God of catastrophes, and that therefore My children should not know of all of what I am warning them about. Why don't they announce that I am Love and that out of Love for My People I tell them in advance what will happen so that they repent in time? My interests should be yours. Instead, before souls are lost, you must shout out loud: how lost Humanity is! This way some of My People would awaken.
I WILL BE SEVERE WITH THOSE WHO DO NOT WARN MY OWN ABOUT THE EVENTS THAT ARE DRAWING NEAR… OR IS IT THAT YOU DO NOT BELIEVE MY MOTHER?
Our Lord Jesus Christ to Luz de Maria - Jan. 29, 2017
Distinction between 'End Times' and End of the World
While the words 'end times' might make you think about the end of the world, it is clear from the content of the revelations that this is not the case. The words 'end times' would refer to a spiritual period of time and not to the physical end of the world:
Do not pay attention to those who announce the end of the world; this is a Trinitarian Jurisdiction, but it is well certain that this generation must be purified time and time again, since they have banished their King, they have sent Him far away, they have confined Him to oblivion and you do not obey My calls. You deny Me constantly, you call Me time and time again, because you believe that denying Me and constantly calling Me false in My apparitions and accusing My true prophets, you desire in this way to deny Me, in order to drive Me from the hearts of My children and that these continue to fall time and time again in the multiple sins that humanity forges, instant by instant.
Blessed Virgin Mary to Luz de Maria - Dec. 08, 2010
THIS CHAPTER, THIS PAINFUL INSTANT OF PURIFICATION DOES NOT MEAN THE END OF THE WORLD, it means a generation that needs to be purified so that it transcends spiritually and is elevated and in this way, maintaining My Son beating and permanent within its being, it is able to maintain like the Holy Remnant that will be triumphant before the coming onslaughts and persecutions.
Blessed Virgin Mary to Luz de Maria - Dec. 12, 2012
Do not heed those who announce the end of the world, but heed My Word that is Eternal Life, calling you to conversion before the purification of this generation and before My Second Coming, which the one who loves Me does not fear but desires.
Our Lord Jesus Christ to Luz de Maria - May. 02, 2013
I HAVE NOT MENTIONED IN ANY OF MY CALLS THAT THIS WILL BE THE END OF THE WORLD BUT THAT THIS GENERATION WILL BE PURIFIED; THIS GENERATION HAS CALLED THE PURIFICATION UPON ITSELF…
Blessed Virgin Mary to Luz de Maria - Sep. 29, 2014
THIS GENERATION IS NOW IN THE END TIMES ANNOUNCED BY ME…
Our Lord Jesus Christ to Luz de Maria - Dec. 30, 2014
Beloved children of My Immaculate Heart, disciples of the end times, I am not telling you about the end of the world, I am telling you about this generation that must be purified due to a limitless rebellion directed towards My Son, everything that is of God, because this generation has surrendered to the dominion of satan. But you, My children, do not fear, I AM YOUR MOTHER AND I HAVE BEEN MANDATED BY MY SON TO GUIDE YOU, SO THAT YOU DRAW NEAR TO ME AND SO THAT WE RETURN THE EARTH TO THE CREATOR, JUST AS THE CREATOR ENTRUSTED IT TO MAN, IN THAT SAME STATE.
Blessed Virgin Mary to Luz de Maria - May. 21, 2018
MY MOTHER IS THE "QUEEN AND MOTHER OF THE END TIMES" AND THESE ARE THE END TIMES – NOT THEREFORE, THE END OF THE WORLD. DO NOT BE AFRAID, AS MY MOTHER IS WITH YOU AND GUARDS YOU.
Our Lord Jesus Christ to Luz de Maria - Jul. 05, 2018
These are the End Times: yes, children, they are.
They are the instants announced: yes, children, they are, but a Divine Instant is not man's instant, therefore I call you not to falter, but to continue making the great effort to grow in union with My Son, and I call you to live more by the spirit.
IS WHAT IS COMING THE END OF THE WORLD? NO, CHILDREN.
Blessed Virgin Mary to Luz de Maria - Jul. 30, 2018
In the midst of so much confusion characterizing the proximity of the "END OF AN ERA" – "NOT THE END OF THE WORLD", you carry on living in the turbulence that never ceases, in the constant to and from of setbacks that arise to keep you scattered and outside of UNITY with the Most Holy Trinity.
St. Michael the Archangel to Luz de Maria - Dec. 10, 2019
My duty is to transmit the Word that I receive, so I must convey it as and how I receive it. Our Mother warns Her children and Humanity that they will suffer, but at the same time She transmits this opportunity for change so that each human being saves their soul. Remember: it is not the end of the world, but it is the Purification with all that It entails.
We must not forget that Heaven announces what is going to happen to Its People …
"When he, the Spirit of Truth comes, he will guide you into all the truth. He will not speak on his own ; he will speak only what he hears, and he will tell you what is yet to come" (Jn. 16 :13).
Luz de Maria's commentary - Oct. 05, 2018
The 'end times' could be related to the parable of the workers of the eleventh hour (Mt. 20:3-16). At the end of the day (hour 12, which in the time system of the Jewish people occurred at 6 pm since the day ended at sunset) one could no longer work and the workers then returned to their homes to dine and sleep. The workers of the 11th hour (and the apostles of the end times) are then those who still have left "an hour of sunlight" to work and "produce for the Kingdom" before the darkness of the night falls.
Prayer of Consecration to the Queen and Mother of the End Times
Queen and Mother of the End Times,
I am your child, receive me, I give to You my life
and in Your Hands, I place my will,
all I have and all I am, my aspirations, desires and projects.
Take away from me all attachment to material things,
so that I will look for possessions
which cannot be seen because they are spiritual.
I consecrate my life to You today, Queen and Mother,
I freely surrender to Your Protection
in such difficult instants in which I live,
be the Ark that will lead me to remain afloat
without sinking in the middle of the purification.
May the Rays from Your Hands enlighten my mind,
my thoughts and my memories that they be healed,
my sufferings, so that I offer it and my falls,
so that You will lift me.
Illuminate my reason so that it does not compete with my faith,
but one be the light of the other.
I consecrate myself to You and surrender to You
within the freedom of the God´s children.
Amen.
Novena to the Queen and Mother of the End Times
Start date: August 20th
End date: August 28th, day of the festivity
Note: This Novena can be done with love and devotion at any time of the year.
Blessings and promises for those who do the Novena
AFTER DOING THIS NOVENA YOU WILL RECEIVE FROM ME:
† The virtue of Hope, so that you do not desist in the instants when you feel the path seems long, and so that the happiness of being a child of God will not move away.
† I will not allow despair to take hold of you, neither will allow you to believe that My Son has abandoned you. Whoever asks for mercy of heart and firm purpose of amendment will receive them.
† I will provide you with the Gift of Wisdom, so you will be children attached to the Divine Word and not be confused, as children who look the Mission that God has entrusted to them. In this way you will not harm the Divine Plans.
† You will receive the Gift of Strength so that your faith will be firm and strong, persevering, and at the same time, love guides all.
† Families will be more united and fraternity among brothers and sisters will be stopper to evil.
† I will provide love between spouses so that it increases.
MY BLESSING WILL BE WITH YOU AS LONG AS YOU ACT WITHIN WHAT IS GOOD.
If you want to do this Novena follow this link.