English
People of God, the evil intent to reduce the number of inhabitants on Earth is underway.
What persecution are you waiting for, People of God? (…)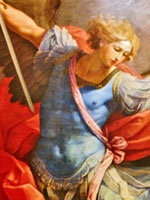 People of God, beloved People of God:
I come with the Word from on High by Trinitarian Will.
I TALK TO YOU AND YOU ARE INDIFFERENT…
OUR KING AND LORD JESUS CHRIST IS OFFENDED BY SUCH GREAT INDIFFERENCE AND IRREVERENCE… BUT YOU CONTINUE WITHOUT STOPPING.
You are seeing how much other human creatures are experiencing on Earth and you remain immutable! The devastations ride from place to place until they travel all over the Earth, before the uncontrollable humanity that gives itself to evil, like sheep to the slaughterhouse.
People of God, the evil intent to reduce the number of inhabitants on Earth is underway.
What persecution are you waiting for, People of God?
The persecution has started (1) and is more incisive and visible against the children of God.
YOU MUST CONTINUE GROWING SPIRITUALLY. Do not be satisfied with what you have achieved; the works and acts are what lead you to grow, but what drives the ascent is the conscience of working and acting within the Trinitarian Will.
You know that it is not fear that I transmit to you, but the knowledge of how much you must know so that you would not lose your soul: this is the Divine Will. (I Pet 2,15)
Pay attention to every announcement that you receive as People of God so that you would not be deceived. The knowledge and practice of the Faith will keep you firm, without giving up.
HEED THE CALLS OF THE PATERNAL HOUSE!
You are witnesses of the fulfillment of what you have received and it has already been triggered, until you reach the moment of the Warning.
Be persevering in the Faith towards the Sacrosanct Trinity, in the love and devotion towards Our Queen and Mother under the invocation of Queen and Mother of the End Times. (2)
Persevere, grow and at the same time be humble.
People of God, keep in mind that you have been warned about the war, which will surprise you without major prior announcements. (3)
Pray children of God, pray, you will hear roars in the Balkans.
Pray children of God, pray, Turkey suffers ad nauseam.
Pray children of God, pray, the betrayal occurs in Italy, the Church suffers.
People of God, do not disperse in banality, be aware of this moment.
Pray, Italy will be invaded with yellow when social upheavals abound in different countries.
People of God:
AMEND NOW!
DO NOT DELAY IN ACCESSING THE GRACE, DO NOT FEAR, KEEP THE FAITH. YOU ARE THE PEOPLE OF GOD AND WILL NEVER BE ABANDONED.
This is the crucial moment for the human creature. In difficult moments, the assistance of Our Queen and Mother is greater and Her Help is even greater for the People of Her Son. You have to keep an active close relationship with your Guardian Angels, My Legions will help you to continue being faithful.
AS PEOPLE OF GOD, AT THE PEAK OF THE TRIALS, YOU WILL BE MORE ASSISTED BY MY LEGIONS. FOR THIS YOU NEED FAITH IN THE DIVINE WILL, ABSOLUTE FAITH, NOT HALFWAYS.
As Prince of the Heavenly Legions, I bless you and protect you.
Long live Christ the King!
Saint Michael the Archangel
HAIL MARY MOST PURE, CONCEIVED WITHOUT SIN
HAIL MARY MOST PURE, CONCEIVED WITHOUT SIN
HAIL MARY MOST PURE, CONCEIVED WITHOUT SIN
COMMENTARY OF LUZ DE MARIA
Brothers:
I now share with you the Vision that I received at the end of this serious Call from Saint Michael the Archangel:
I saw our Traveling Companions looking up high.
I immediately looked up and could see a great number of Heavenly Armies descend and stand beside our Traveling Companions. I immediately watched how horrible, misshapen, smelly creatures arrived.
Upon perceiving the arrival of those demons, our Guardian Angels and the Heavenly Armies that had descended covered with light the People of God, which were invisible to those demons.
Saint Michael the Archangel told me:
Beloved of Christ, this is the protection that My Angelic Legions offer to the faithful children of the Sacrosanct Trinity and of our Queen and Mother.
Therefore, the People of God must persevere in Love, Faith, Hope and Charity so that in difficult moments they will be protected, not only by their Guardian Angels, but, at the same time, by a greater number of My Heavenly Legions.
Amen.
-St. Michael the Archangel to Luz de Maria – Jul. 31, 2021

Español
Pueblo de Dios, el propósito del mal de reducir el número de habitantes sobre la Tierra está en marcha.
¿Cuál persecución esperan, Pueblo de Dios? (…)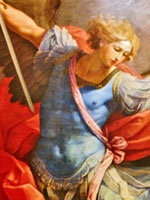 Pueblo de Dios, amado Pueblo de Dios:
Vengo con la Palabra de lo Alto por Voluntad Trinitaria.
LES HABLO Y SON INDIFERENTES…
OFENDEN A NUESTRO REY Y SEÑOR JESUCRISTO CON TANTA INDIFERENCIA E IRREVERENCIA… Y CONTINÚAN SIN DETENERSE.
¡Miran cuanto viven otras criaturas humanas en la Tierra y son inmutables! Las devastaciones cabalgan de lugar en lugar hasta que recorran toda la Tierra, ante la humanidad incontrolable que se entrega al mal, como ovejas al matadero.
Pueblo de Dios, el propósito del mal de reducir el número de habitantes sobre la Tierra está en marcha.
¿Cuál persecución esperan, Pueblo de Dios?
Ha iniciado la persecución (1) y es más incisiva y visible contra los hijos de Dios.
DEBEN CONTINUAR CRECIENDO ESPIRITUALMENTE. No se conformen con lo que han logrado; las obras y actos son los que los llevan a crecer, pero lo que impulsa el ascender es la conciencia en el obrar y actuar dentro de la Voluntad Trinitaria.
Saben que no es temor lo que les transmito, sino el conocimiento de cuanto deben saber para que no pierdan el alma: esta es la Voluntad Divina. (I Ped 2,15)
Presten atención a cada anuncio que reciban como Pueblo de Dios para que no les engañen. El conocimiento y la práctica de la Fe les mantendrán firmes, sin claudicar.
¡ATIENDAN LOS LLAMADOS DE LA CASA PATERNA!
Son testigos de los cumplimientos de cuanto han recibido y ya se desencadenó, hasta que alcancen el momento del Aviso.
Sean perseverantes en la Fe hacia la Trinidad Sacrosanta, en el amor y devoción hacia Nuestra Reina y Madre bajo la advocación de Reina y Madre de los Últimos Tiempos. (2)
Perseveren, crezcan y a la vez, sean humildes.
Pueblo de Dios, tengan presente que han sido advertidos sobre la guerra, la que les sorprenderá sin grandes anuncios previos. (3)
Oren hijos de Dios, oren, escucharán rugidos en los Balcanes.
Oren hijos de Dios, oren, Turquía padece hasta el hartazgo.
Oren hijos de Dios, oren, la traición se da en Italia, la Iglesia padece.
Pueblo de Dios, no se dispersen en lo banal, sean conscientes de este momento.
Oren, Italia será invadida de amarillo cuando en diferentes países abunden las revueltas sociales.
Pueblo de Dios:
¡ENMIÉNDENSE YA!
NO DEMOREN EN ACCEDER A LA GRACIA, NO TEMAN, MANTENGAN LA FE. SON EL PUEBLO DE DIOS Y NUNCA SERÁN ABANDONADOS.
Este es el momento crucial para la criatura humana. En los momentos difíciles mayor es la asistencia de Nuestra Reina y Madre y mayor aun es Su Auxilio para el Pueblo de Su Hijo. Tienen que mantener activa la relación estrecha con sus Ángeles Custodios, Mis Legiones les auxiliarán para que continúen siendo fieles.
COMO PUEBLO DE DIOS, EN EL MOMENTO CULMEN DE LAS PRUEBAS, SERÁN MÁS ASISTIDOS POR MIS LEGIONES. PARA ELLO NECESITAN FE EN LA VOLUNTAD DIVINA, FE ABSOLUTA, NO A MEDIAS.
Como Príncipe de las Legiones Celestiales, les bendigo y les amparo.
¡Viva Cristo Rey!
San Miguel Arcángel
AVE MARÍA PURÍSIMA, SIN PECADO CONCEBIDA
AVE MARÍA PURÍSIMA, SIN PECADO CONCEBIDA
AVE MARÍA PURÍSIMA, SIN PECADO CONCEBIDA
COMENTARIO DE LUZ DE MARÍA
Hermanos:
Les comparto la Visión que he recibido al finalizar este serio Llamado de San Miguel Arcángel:
Vi a nuestros Compañeros de camino mirando hacia lo alto.
De inmediato miré hacia lo alto y pude ver cantidad de Ejércitos Celestiales descender y colocarse al lado de nuestros Compañeros de Camino. De inmediato observé como llegaban criaturas horribles, deformadas y malolientes.
Al percibir la llegada de esos demonios, nuestros Ángeles Custodios y los Ejércitos Celestiales que habían descendido, cubrieron de luz al Pueblo de Dios, el que fue invisible para esos demonios.
San Miguel Arcángel me dijo:
Amada de Cristo, esta es la protección que Mis Legiones Angélicas ofrecen a los hijos fieles a la Trinidad Sacrosanta y a nuestra Reina y Madre.
Por ello, el Pueblo de Dios debe perseverar en el Amor, en la Fe, en la Esperanza y en la Caridad para que en los momentos difíciles sean protegidos, no solo por sus Ángeles Custodios, sino, a la vez, por un número mayor de Mis Legiones Celestiales.
Amén.
-San Miguel Arcángel a Luz de María – 31.JUL.2021
