Guide to benefit from their presence and interact with our Guardian Angel in our daily life. Who are the angels? Catechism of the Catholic Church. How to recognize their interventions. The Guardian Angel. Revelations. Prayers and invocations.
Header image: Jacob wrestles with the Angel of the Lord (Gen 32: 25-31)
An ignored and little-known reality is that of the constant presence on Earth of billions of angels. Perhaps the general ignorance about these beings is what leads us to be reminded incessantly in the revelations to call them to benefit from their service in our daily life. But in what way do they help us and what can we do to request their help? We will try to answer this and other questions in this brief guide for the End Times.
I urge you to remember that you have travel Companions, your Protectors, your Guardian Angels, which Humanity has completely forgotten. They are the same ones of the Old Testament, who worked wonders and defended God's People; they are the same ones this instant, of the New Testament and will be the same ones that accompany triumphant the remnant Church.
Your travel companions, your Guardian Angels remain guiding you, helping you and protecting you, but they as envoys of God, respect free will. Listen to them and ask them to guide you by the path of truth.
– Blessed Virgin Mary to Luz de María – Nov, 02 2011
Abbreviations
CCC: Catechism of the Catholic Church.
What are angels?
By the word "Angels" (that is, "messengers" of God), we usually understand a race of spiritual beings of exalted nature above that of man, whose office is to serve God in Heaven, and who were assigned to succor and defend men on Earth acting as agents of Divine Providence. The word "angel" is related etymologically to the greek term angelos, whose translation: "messenger" is similar to the hebrew word.
The angels constitute for the Catholic Church an immutable dogma of faith, as the Sacred Scripture witness this reality in several occasions:
The existence of the spiritual, non-corporeal beings that Sacred Scripture usually calls "angels" is a truth of faith. The witness of Scripture is as clear as the unanimity of Tradition.
CCC 328
Angels are spiritual creatures who glorify God without ceasing and who serve his saving plans for other creatures: "The angels work together for the benefit of us all" (St. Thomas Aquinas, STh I, 114, 3, ad 3).
CCC 350
They are purely spiritual in nature as opposed to the material dimension. Even so, on certain occasions, by God's will, they can become sensitive to the physical senses of man as happened to Lot (Gen. 19: 1) and as explained in revelation to Maria Valtorta:
"We, the angels, when it is necessary to do so, we show ourselves with the concretion that God gives us to make us sensitive to your clumsy senses, but you see that, in general, it is not to the bodily eyes that we present ourselves to but the spiritual sight, and we speak to your spiritual ear, enjoying both, sight and hearing, with a sharpness that the eyes and bodily ears would not have, and even more, because as the spirit sees and hears, the body also rejoices with the peace that we carry with us. " (Revelation to María Valtorta – Book of Azariah)
Did you know...
Maria Valtorta (1897-1961), Italian mystic, received plenty of revelations, including many of her guardian angel, called Azarias, whose dictations, with comments from the angel to the readings of the holidays, were written in the years 1946-1947. These revelations were originally published under the name "Libro di Azarías" (in Italian) and are currently translated into most languages.
According to these revelations, our perfection is greater than the angelic one because we can sacrifice ourselves, suffer, cooperate in the redemption of man, as well as the sublime possibility of voiding our fecundity, feminine or masculine – without excluding those who are no longer virgins, to be fertile only in the spirit.
See prayer to offer sacrifices at the end of this post.
Angelic interventions in the Holy Scriptures
The Old Testament describes angels interventions in the life of the People of Israel several times:
·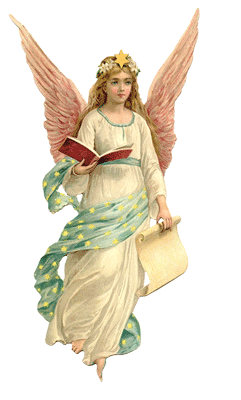 Jacob's struggle with the angel (Gen 32, 25-29);
· The ladder traveled by the angels, dreamed by Jacob (Gen 28, 12);
· The three angels guests of Abraham (Gen 18);
· The intervention of the angel who stops the hand of Abraham who is about to sacrifice Isaac.
· The angel that brings food to the prophet Elijah to the desert.
· The angel Raphael appears and guides Tobit towards Media (Tob 5, 4).
The New Testament also speaks frequently of angels:
· The angels announcing to the shepherds the birth of Christ;
· The angel that appears in dreams to St. Joseph, suggesting him to flee to Egypt with the Child and His Mother;
· The angels who worship and serve Jesus after the temptations in the desert;
· The angel who announced to the Magdalene and other women, the resurrection of Christ;
· The liberation of St. Peter, from the chains and the jail in Rome (Acts 12, 7);
· In the Book of Revelations.
The Guardian Angel
Angels protect every human being (Cf. CCC 352), since:
"From infancy (cf Mt 18:10) to death (cf Lk 16:22), human life is surrounded by their watchful care and intercession (cf Pss 34:8; 91:10-13; Job 33:23-24; Zac 1,12; Tob 12:12) "Beside each believer stands an angel as protector and shepherd leading him to life" (St. Basil, Eunomium 3, 1). Already here on earth the Christian life shares by faith in the blessed company of angels and men united in God. (CCC 336)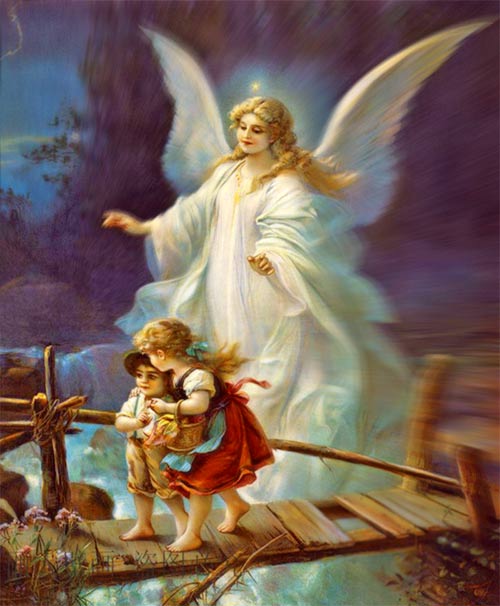 Can we interact with angels?
Yes. We can call on angels for help and ask them to intercede with God. [CCC 334-336, 352]
Every person receives from God a guardian angel. It is good and sensible to pray to one's guardian angel for oneself and for others. Angels can also make themselves noticeable in the life of a Christian, for example, as bearers of a message or as helpful guides. Our faith has nothing to do with the false angels of New Age spirituality and other forms of esotericism. (YouCat ~55)
How to interact with our guardian angel and recognize his interventions
Often, due to lack of proper education (and information), the actions and warnings of our guardian angel go unnoticed by us. We must bear in mind that to benefit from their help it is necessary to be repentant of sins committed, preferably in God's grace, being advisable to make a sacramental confession at least once a month and strive to improve ourselves. It can be very useful to perform the exercises to purify our spiritual senses, making it easier to perceive their actions in our daily lives.
Angels in the liturgy
The Feast of the Holy Archangels Michael, Gabriel and Raphael is celebrated on September 29; and the day of the Holy Guardian Angels on October 2.
The totality of ways in which angels can interact with men is unknown, but some of them are known by Tradition, the Holy Scriptures and divine revelations to saints.
One of the ways in which their help can be manifested is through physiological reactions in our body, which in some cases move us to hurry, others to stop or change a path, and in others they try to move us to reflect or warn us before doing something. At other times, thoughts may suddenly arise that move us to do something good or get away from something sinful. Finally, their actions could even extend into some dreams (exceptionally), as happened to the Wise men from the East (Mt 2:12) and to St. Joseph, warning him to flee to Egypt taking the child and His Mother because Herod wanted to kill Him (Mt 2:13).
It is easy to see then, how we can often avoid dangers and remain safe with their help, mostly from sinful occasions, preserving our souls and spiritual health, not excluding the risks to our body and our physical health when this is God's will.
It is necessary to voluntarily request the assistance of the angels, since they do not violate our free will, as well as not to expect to count on their help if we devote ourselves to a sinful life away from God. It is required to invoke them through prayers, for this we recommend using a prayer like those found in the section 'Prayers' below.
A tender way of entrusting ourselves to their help is to make the sign of the cross and say by mental prayer, where one will go before leaving our home, hoping for our guardian angel, to protect and warn us from the dangers we could meet. This can be taught to children so that they get accustomed to request their help and have a significant advantage during their lives.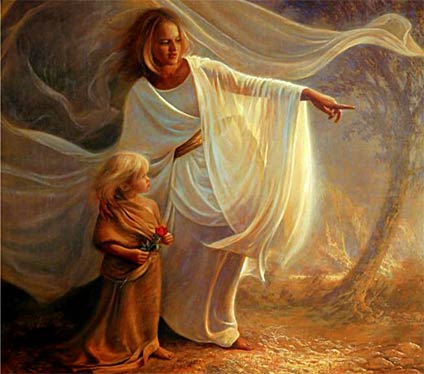 Afraid and wandering, we lost our way.
With no aid in sight, we began to pray:
"Please keep us safe in such hostile lands,"
Then came the warm touch of Heavenly Hands.
(Image: "Heavenly Hands", Courtesy of GregOlsen.com)
Revelations to Luz de María
Prayers
Daily Prayer to the Guardian Angel
Angel of God
My guardian dear
To Whom His love
Commits me here
Ever this day
Be at my side
To light and guard
To rule and guide. Amen
St. Gertrude's Guardian Angel Prayer
O most holy angel of God, appointed by God to be my guardian, I give you thanks for all the benefits which you have ever bestowed on me in body and in soul. I praise and glorify you that you condescended to assist me with such patient fidelity, and to defend me against all the assaults of my enemies. Blessed be the hour in which you were assigned me for my guardian, my defender and my patron. In acknowledgement and return for all your loving ministries to me, I offer you the infinitely precious and noble heart of Jesus, and firmly purpose to obey you henceforward, and most faithfully to serve my God. Amen.
Prayer to our Guardian Angel
"O angel of Christ, holy guardian and protector of my soul and body, forgive me everything wherein I have offended you every day of my life, and protect me from all influence and temptation of the Evil One.
May I never again anger God by my sins.
Pray for me to the Lord, that He may make me worthy of the grace of the All-Holy Trinity, and of the blessed Mother of God, and of all the saints. Amen."
Prayer to our Guardian Angel II
Good and merciful Father, thank you because you are not content
With giving me all Your Love to facilitate for me my passage on Earth,
But, by Your Divine Goodness, you give me an Angel,
To be my companion, help, guardian, protector,
And personal messenger before Your Sacrosanct Throne.
Guardian Angel, spiritual brother,
You have remained in silence watching me and hurting
Because of my constant errors.
I know that when no one can accompany me any longer,
You will be the one to take me into the Father's presence.
Today I invoke you, fully aware of Your staying
Beside me, of Your fidelity to which I have been indifferent.
My spiritual brother, I call you today
And ask you with full awareness to continue at my side,
Being that voice that does not allow me to distance myself from the correct path.
Oh Holy Guardian Angel! I recognize you as a work of
God's saving plan, and entrust myself to Your guidance.
Good and merciful Father, thank you for giving me
This spiritual brother whom I receive with love;
And knowing that he is, not only Your reflection, but Your same Love,
I humbly beg that you grant that I love you, as He loves you. Amen
Prayer to All Angels
All you holy angels and archangels, thrones and dominations, principalities and powers, the virtues of Heaven, cherubim and seraphim, praise the Lord forever. Amen.
Prayer to offer personal sacrifices taught by Our Lady of Fatima
Oh my Jesus, I offer this for love of Thee, for the conversion of sinners, and in reparation for the sins committed against your Sacred Heart and to the Immaculate Heart of Mary. Amen