Español
Pueblo de Dios: se acercan instantes fortísimos para el Pueblo de Dios. No son instantes como otros que han vivido…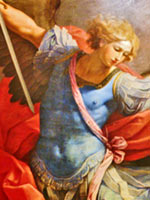 Pueblo de Dios:
EN NOMBRE DE LOS EJÉRCITOS CELESTIALES Y POR VOLUNTAD DIVINA LES TRANSMITO ESTA PALABRA.
Las bendiciones no se hacen esperar para quienes se esfuerzan por continuar practicando el bien y apegados al Evangelio son amor como la Trinidad Sacrosanta es AMOR, como Nuestra Reina y Madre de Cielo y Tierra es Amor y como Nosotros somos Amor.
En medio de tanta confusión que caracteriza la proximidad del "FIN DE UNA ERA", "NO EL FIN DEL MUNDO", se mantienen viviendo en las turbulencias que no cesan, en el constante ir y venir de contrariedades que surgen para mantenerles dispersos y fuera de la UNIDAD con la Trinidad Sacrosanta. Como hijos de Dios, tienen que reconocer al mal, el cual se encuentra en fuerte lucha contra el Pueblo de Dios para distraerles y llevarles a desertar en la fe. Aquellos que se han adentrado en el camino espiritual, logran percibir lo fuerte de este momento en que todos los Demonios se encuentran en la Tierra tentando a los hombres para que caigan.
¡AÚN NO RECONOCEN QUE LA HUMANIDAD ESTÁ ENARDECIDA Y SOLO NECESITA UN PEQUEÑO MOTIVO PARA ARREMETER EN CONTRA DE SUS HERMANOS!
Todo el escenario fue preparado por quienes van a aplastar a la humanidad con su poderío y le han sustraído con engaños la mente, agitándola hacia este obrar y actuar del hombre actual. Estos levantamientos, este caos actual no nació en esta generación, el mal ha gestado este estado de la humanidad para que se haga una realidad en este presente en que viven, ¡DESPIERTEN!
El plan demoniaco de la masonería y de ideologías contrarias al bien, es separar al hombre de su Creador y robarle el sustento espiritual del Sacrificio Eucarístico, para que caiga en los pecados más despreciables.
Son demasiados los que engañados por el Demonio caen en la trampa del mal y se amparan a los que renuncian y reniegan de la Trinidad Sacrosanta.
¡AY!…. ¡CUÁNTOS QUEDARÁN EN EL CAMINO, ENGAÑADOS POR EL DEMONIO!
¿Buscan la fe, la libertad?…. Caminen de la Mano de Nuestra Reina y Madre, para que les conduzca hacia el bien, Ella es la predilecta del Padre.
Miramos a los hombres atacar los Templos en honor a la Trinidad Sacrosanta y a Nuestra Reina y Madre, y en el Cielo nos estremecemos por tan grave falta, y más grave será la próxima falta ya que de atacar los Templos construidos por el hombre para adorar a la Trinidad Sacrosanta, pasarán a atacar al Pueblo de Dios y sobrevendrá la persecución tan anunciada desde tiempos pasados.
LEEN EL APOCALIPSIS COMO UN NIÑO LEE UN LIBRO DE HISTORIAS, ¡NO, NO, NO!, el libro del apocalipsis es para llevarse a cumplimiento como se ha dado a cumplimiento la sagrada escritura.
¡QUIEN NIEGA EL APOCALIPSIS NIEGA TODA LA SAGRADA ESCRITURA! (Cfr. II Tim 2,16).
Prepárate Pueblo de Dios, eleva el espíritu hacia la unidad con la Trinidad Sacrosanta, une los sentidos del cuerpo físico y los sentidos espirituales para que sea uno el que obra y uno el que actúa y no sean más sepulcros blanqueados (Cfr. Mt 23,2-32), los que ante las adversidades, olvidan la Palabra Divina y se esconden en las madrigueras para no ser vistos o para no enfrentarse consigo mismo y mirarse interiormente.
No almacenen alimentos para los lugares que algunos han preparado para los momentos de persecución y de tribulación, si no se preparan primero espiritualmente y con discernimiento dado por el Espíritu Santo, para que renuncien al mal con fe firme y salven el alma. De nada les vale, ni los alimentos, ni medicamentos, ni el dinero, ni de lo que se abastezcan, si no son VERDADEROS TEMPLOS DE AMOR (Cfr. I Cor. 6,19).
Pueblo de Dios: se acercan instantes fortísimos para el Pueblo de Dios. No son instantes como otros que han vivido, estos serán la prueba en la fe, en el amor verdadero, en la verdadera esperanza, en la caridad sin igual, en los cuales algunos serán engañados fácilmente y no por no conocer las Escrituras, no por no conocer la Palabra Divina, no por no orar o por no recibir el Cuerpo y la Sangre de Cristo Nuestro Rey y Señor, sino por acostumbrarse a llamarse a sí mismos Cristianos y practicar sus deberes pero sin consciencia de la DIVINIDAD ANTE LA QUE SE ENCUENTRAN, sin consciencia y hasta sin fe.
LA COSTUMBRE LLEVA A QUE CRIATURAS DE DIOS PIERDAN LA VIDA ETERNA.
PUEBLO DE DIOS, LA BATALLA NO ES CONTRA HOMBRES, ES CONTRA LOS ESPÍRITUS DEL MAL ESPARCIDOS POR EL MUNDO (Cfr. Ef. 6,12), SE ENCUENTRAN EN UNA AGUERRIDA BATALLA EN CONTRA DEL BIEN, POR ELLO, EN DONDE MENOS PIENSEN, ENCONTRARÁN QUIENES SE LEVANTEN CONTRA EL PUEBLO DE DIOS.
La humanidad es probada, sumamente probada, en especial en la fe sobre la que el hombre de Dios cree en un Solo y Único Dios, para que luego ya sin fe, acepte pertenecer a una religión única; en lo social: para que la humanidad pierda su identidad; en lo político: para que la humanidad se una a las ideologías que lidera el Demonio y atropellan a los hombres con crueldad, sin compasión; en lo económico: porque Satanás sabe bien que el hombre cuando se siente desestabilizado económicamente, es capaz de todo y olvida el bien.
EL ESCENARIO HA SIDO CUIDADOSAMENTE DISEÑADO Y EL PUEBLO DE DIOS CEDIÓ A LOS CAPRICHOS DEL MAL, POCO A POCO. YA SABRÁN QUE MIS PALABRAS NO SON EN VANO. POR ELLO ¡APELE CADA UNO A LA MISERICORDIA DIVINA Y ARREPIÉNTANSE PROFUNDAMENTE, YA!
Este momento es extremadamente perturbador para quienes son tibios, pero para los hijos de Dios firmes en la fe, es el instante de enaltecer la fe.
Les convoco a orar, Pueblo de Dios. A orar por la Paz mundial que se encuentra amenazada aunque ustedes no lo miren, ni lo expongan los medios de comunicación.
Les convoco a orar, Pueblo de Dios. El hombre sabrá del estremecerse de la tierra y entrará en pánico. Oren, soliciten la Misericordia Divina para los países que el Cielo ha mencionado. Oren por los eventos cósmicos que afectan la Tierra.
Les convoco a orar, Pueblo de Dios, la Iglesia SE ESTREMECE, no pierdan la fe.
Les convoco a orar, Pueblo de Dios, Argentina llorará el algarabío que vive.
Pueblo de Dios, son llamados a ser hijos fieles; comerán, beberán se casarán (Cfr. Lc 17,26-28) sin atender los llamados Divinos y llegará el Rey y ¿qué ha sido del hombre?
Miran el Sol, la Luna, las estrellas y les dejarán de mirar, la oscuridad en el alma del hombre será la misma en la que se sumergirá la Tierra.
Atiendan, hijos de Dios, transformen su vida y contribuyan a salvar a sus hermanos, atiendan, no desprecien los Llamados. Auxilien a sus hermanos que padezcan por la naturaleza.
UNIDOS EN LA CELEBRACIÓN A NUESTRA REINA Y MADRE EMPERATRIZ DE LAS AMÉRICAS, RUEGUEN A DIOS PARA QUE DEVELE EL MISTERIO: EN ELLA ACUNA AL ÁNGEL DE PAZ.
¿QUIÉN ES COMO DIOS?
¡NADIE COMO DIOS!
AVE MARÍA PURÍSIMA, SIN PECADO CONCEBIDA
AVE MARÍA PURÍSIMA, SIN PECADO CONCEBIDA
AVE MARÍA PURÍSIMA, SIN PECADO CONCEBIDA
–San Miguel Arcángel a Luz de María – 10.DIC.2019

English
People of God: extremely hard instants are coming for the People of God. These instants are not like others you may have lived through…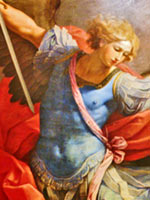 People of God:
IN THE NAME OF THE HEAVENLY HOSTS AND BY DIVINE WILL I TRANSMIT THIS WORD TO YOU.
Blessings come without delay for those who strive to continue practicing the good and, attached to the Gospel, are love as the Holy Trinity is LOVE, as Our Queen and Mother of Heaven and Earth is Love and as We are Love.
In the midst of so much confusion that characterizes the proximity of the "END OF AN AGE", "NOT THE END OF THE WORLD", you remain living in the turbulences that do not cease, in the constant coming and going of contradictions that arise to keep you scattered and out of the UNITY with the Holy Trinity. As children of God, you must recognize evil, which is in a strong fight against the People of God to distract them and lead them to desert in faith. Those who have entered into the spiritual path, manage to perceive how strong is this moment when all the Demons are on Earth tempting men and women to make them fall.
MAN STILL DOES NOT ACKNOWLEDGE THAT HUMANITY IS ENRAGED AND THAT JUST A SMALL REASON IS ENOUGH FOR MAN TO CHARGE AGAINST HIS BROTHERS!
The whole stage was prepared by those who will crush humanity with their power and have deceitfully abducted the mind, stirring it towards the works and acts of present-day man. These uprisings, this current chaos was not born in this generation, evil has gestated this state of humanity to become a reality on this present in which you live, WAKE UP!
The demonic plan of Freemasonry and of ideologies that are contrary to good is to separate man from his Creator and rob him of the spiritual sustenance of the Eucharistic Sacrifice, in order for him to fall into the most despicable sins.
Too many are those who, deceived by the Devil, fall into the snares of evil and seek shelter with those who relinquish and repudiate the Holy Trinity.
ALAS!…. HOW MANY WILL FALL BY THE WAYSIDE, DECEIVED BY THE DEVIL!
Are you seeking faith, freedom?…. Walk by the Hand of Our Queen and Mother, so She may lead you to good, She is the Father's favorite.
We watch men attack the Temples that honor the Holy Trinity and Our Queen and Mother, and in Heaven we shudder at such a serious offense, and more serious will be the next offense, since from attacking the Temples that were built by man to worship the Holy Trinity, they will move to attack the People of God, bringing the persecution that was much-heralded since past times.
MAN READS THE BOOK OF REVELATION LIKE A CHILD READS A BOOK OF STORIES; NO, NO, NO!, THE BOOK OF REVELATION IS TO BE FULFILLED AS THE HOLY SCRIPTURES WERE GIVEN TO BE FULFILLED.
THE ONE WHO DENIES THE BOOK OF REVELATION DENIES ALL THE HOLY SCRIPTURES! (cf. II Tim 2:16).
Get ready People of God, lift the spirit towards the unity with the Holy Trinity, unite the senses of the physical body and the spiritual senses so that it is one who works and one who acts and be no more whitewashed tombs (cf. Mt 23:2-32), who in the face of adversity, forget the Divine Word and hide in the burrows so as not to be seen or not to face their own self and look at their inner self.
Do not store foods for the places that some have prepared for the moments of persecution and tribulation, if you are not prepared spiritually first and with discernment given by the Holy Spirit, so that you may renounce to evil with firm faith and save the soul. It is of no use to you, neither food, nor medicine, nor money, nor what you may be supplied of, if you are not TRUE TEMPLES OF LOVE (cf. I Cor. 6,19).
People of God: extremely hard instants are coming for the People of God. These instants are not like others you may have lived through, these will be the test in faith, in true love, in true hope, in unparalleled charity, in which some will be easily deceived and not by not knowing the Scriptures, not by not knowing the Divine Word, not by lack of praying or for not receiving the Body and Blood of Christ our King and Lord, but by getting used to calling themselves Christians and practicing their duties but without consciousness of the DIVINITY BEFORE WHICH THEY ARE, without consciousness and even without faith.
CUSTOM LEADS CREATURES OF GOD TO LOSE ETERNAL LIFE.
PEOPLE OF GOD, THE BATTLE IS NOT AGAINST MEN, IT IS AGAINST THE SPIRITS OF EVIL SCATTERED AMONG THE WORLD (Cf. Eph. 6:12), YOU ARE INSIDE A FEROCIOUS BATTLE AGAINST GOOD, THEREFORE, WHERE YOU LESS EXPECT IT, YOU WILL FIND THOSE WHO WILL RISE AGAINST THE PEOPLE OF GOD.
Humanity is tested, highly tested, especially in faith upon which a man of God believes in a One and Only God; so that without faith he may then, accept to belong to a unique religion; Socially: for humanity to lose its identity; Politically: for humanity to join the ideologies led by the Devil and run over men with cruelty, without compassion; Economically: because Satan knows well that when man feels economically destabilized, he is capable of everything and forgets good.
THE STAGE HAS BEEN CAREFULLY DESIGNED AND THE PEOPLE OF GOD GAVE IN TO THE WHIMS OF EVIL, LITTLE BY LITTLE. YOU MAY KNOW THAT MY WORDS ARE NOT IN VAIN. THEREFORE, APPEAL EACH ONE TO THE DIVINE MERCY AND REPENT PROFOUNDLY, NOW!
This moment is extremely disturbing for those who are lukewarm, but for the children of God who are firm in faith, it is the time to exalt faith.
I call you to pray, People of God. To pray for world Peace that is threatened even if you do not see it, or is not exposed by mass media.
I call you to pray, People of God. Man will know of the shuddering of the earth and will panic. Pray, request Divine Mercy for the countries that Heaven has mentioned. Pray for the cosmic events that affect the Earth.
I call you to pray, People of God, the Church SHUDDERS, do not lose faith.
I call you to pray, People of God, Argentina will mourn the rejoicing it lives.
People of God, you are called to be faithful children; they will eat, drink, get married (cf. Lk 17:26-28) without attending to the Divine calls and the King will come, and what has become of man?
You look at the Sun, the Moon, the stars and you will stop looking at them, the darkness in man's soul will be the same in which the Earth will be submerged.
Attend, children of God, transform your life and help save your brothers and sisters, attend, do not despise the Calls. Help your neighbours who may suffer from nature.
UNITED IN THE CELEBRATION OF OUR QUEEN AND MOTHER EMPRESS OF THE AMERICAS, PRAY TO GOD FOR THE REVELATION OF THE MYSTERY: IN HER, SHE ROCKS THE ANGEL OF PEACE.
WHO IS LIKE GOD?
NO ONE IS LIKE GOD!
HAIL MARY MOST PURE, CONCEIVED WITHOUT SIN
HAIL MARY MOST PURE, CONCEIVED WITHOUT SIN
HAIL MARY MOST PURE, CONCEIVED WITHOUT SIN
–St. Michael the Archangel to Luz de Maria – Dec. 10, 2019
