Prayers of consecration to the Sacred Hearts to fulfill our Lord Jesus Christ and Blessed Virgin Mary petitions given in revelations to Luz de María.
I invite you, My children, to continue consecrating yourselves to My Immaculate Heart every day, the instants merits it and in your personal consecration do not forget to consecrate Russia as I asked when I revealed My Third Secret at Fatima.
Blessed Virgin Mary to Luz de María - OCT 16, 2013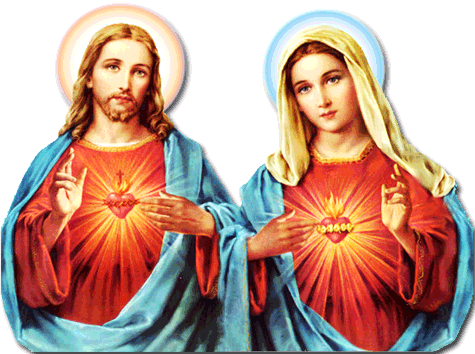 Consecration to the Sacred Heart of Jesus
Luz de María, June, 2009
Sacred Heart of my beloved Jesus,
Spring of infinite mercy,
Receive on this day the complete surrender of my being.
Take my life, I offer it to You
Let your sacred Heart be a fountain of blessings,
Not only for me, but also for all of humanity,
Which at this moment united with me, I give to Your protection.
I give You my heart, so that it only loves You,
I give You my sight so that I see Your Love everywhere,
I give You my ears so that they hear your heartbeat,
I give You my thinking so that protected by You, it be a constant hymn of adoration,
I give You my hands and my feet so in your likeness they may be
blessing for my brothers and sisters.
Sacred Heart of my beloved Jesus,
I accept you today as my refuge from
anguish and tribulation at all times,
I accept You as protector and custodian of my life,
Above all in moments of temptation.
Sacred Heart of my beloved Jesus,
From today on I give myself wholly to You.
I plead with You to help me in this life,
So that nothing and no one separates me from You.
Fountain of infinite mercy, take possession of my being;
I, in exchange, promise to love You, and I resolve to never offend You.
Receive, I beg You, this my consecration to You,
And keep me, as of this moment, as Your own possession.
Amen.
Consecration to the Immaculate Heart of the Blessed Virgin Mary
Luz de María, August 2011
I ………….. give myself, Mother, to Your protection and to Your guidance; I do not want
to walk alone in the midst of the storm of this world.
I present myself before You, Mother of Divine love, with empty hands, but with my heart
filled with love and hope in Your intercession.
I ask You to teach me to love the Most Holy Trinity with Your same Love, so as not to be
indifferent to Its calls or indifferent to mankind.
Take my mind, my thoughts, my consciousness and unconsciousness, my heart, my desires,
my expectations, and unify my being in the Trinitarian Will, as You did, so that Your Son's
Word does not fall on arid land.
Mother, united with the Church, Mystical Body of Christ: bleeding and despised in this
instant of darkness, I raise my pleading voice to You so that the discord between men and
the nations be annihilated by Your Maternal Love.
SOLEMNLY I CONSECRATE TO YOU TODAY, BLESSED MOTHER, MY ENTIRE
LIFE, FROM MY BIRTH. WITH FULL USE OF MY FREEDOM, I REJECT THE
DEVIL AND ALL HIS MACHINATIONS AND I GIVE MYSELF TO YOUR
IMMACULATE HEART. TAKE ME BY YOUR HAND FROM THIS INSTANT, AND
AT THE HOUR OF MY DEATH, PRESENT ME BEFORE YOUR DIVINE SON.
Allow Mother of Goodness, that this: my consecration be taken in the hands of the Angels to
every heart so that it might be is infinitely repeated in each human being.
Amen.
Revelations to Luz de María:
Blessed Virgin Mary to Luz de María
OCTOBER 16, 2017
It is necessary that you renew each day the Consecration to the Sacred Heart of My Son and to Mine.
Is not every instant a new struggle against evil? The hordes of satan do not rest.
Why is it that My children think that consecrating themselves once to Our Sacred Hearts is enough?
No children, it is never enough…
Our Lord Jesus Christ to Luz de María
OCTOBER 6, 2017
I call you to renew the Consecration to Our Sacred Hearts. I bless you, you are inside My Open Side.
Your Jesus
Our Lord Jesus Christ to Luz de María
SEPTEMBER 10, 2017
My Beloved People:
CONTINUE CONSECRATING YOURSELVES TO THE IMMACULATE HEART OF MY MOTHER AND TO MY MOST SACRED HEART. Each consecration is a spiritual rebirth for you, it is a repeated renunciation of evil and a repeated adhesion to the Truth.
Blessed Virgin Mary to Luz de María
JULY 7, 2017
Beloved children of My Immaculate Heart, each of you must voluntarily consecrate yourself to Our Sacred Hearts; My Son has asked this from you and I repeat that urgent request.
EVERY HOME SHOULD BE CONSECRATED TO OUR SACRED HEARTS, EACH FAMILY SHOULD CONSECRATE ITSELF TO OUR SACRED HEARTS, BUT DO NOT FORGET THAT THE CONSECRATION IS PUT INTO EFFECT BY CONSTANTLY LIVING IN THE FATHER'S WILL. BUT WHERE DIVINE LOVE DOES NOT REIGN, CONSECRATION DOES NOT PRODUCE FRUITS.
Our Lord Jesus Christ to Luz de María
OCTOBER 23, 2016
Repeat the Consecration to the Immaculate Heart of My Mother so as not to forget that you are Her children. Live with the certainty that My Mother intercedes for you, and each Hail Mary, prayed with consciousness, is a great blessing that you receive, not only for the one who prays but for their brothers and sisters.
Blessed Virgin Mary to Luz de María
MAY 13, 2016
My prophecy in Fatima has not concluded. My Son's Church will suffer the schism; Humankind does not perceive it, due to the accelerated daily life, man has separated from My Son because of human occupations to which man gives a higher priority.
MY SON'S PEOPLE MUST RETAKE THE PRAYER TO SAINT MICHAEL ARCHANGEL, DEFENDER OF MY SON'S CHURCH.
MY REQUEST IN FATIMA HAS NOT BEEN FULFILLED…
CHILDREN OF MY IMMACULATE HEART, AS MOTHER I ASK YOU TO CONSECRATE YOURSELVES TO OUR SACRED
HEARTS, A PERSONAL CONSECRATION AS WELL AS FOR THE WORLD.
I POUR OUT ABUNDANT GRACE FOR THOSE WHO COMPLY WITH THIS REQUEST ON THIS DAY.
I made a greater request which would have stopped the sorrows that Humankind will encounter. I WAS NOT HEARD…
Blessed Virgin Mary to Luz de María
OCTOBER 25, 2015
Do not be confused, My children, the fighting will recrudesce as the instant goes by. The fulfillment of Great Revelations is still pending, revelations that concern the salvation of mankind; they have not complied with the Consecration of Russia to My Immaculate Heart, they have consecrated France to My Son's Sacred Heart, and the whole world, BUT THEY HAVE NOT COMPLIED WITH MY GREAT PETITION TO AVOID CALAMITIES AND GREAT SUFFERING FOR THIS GENERATION.
TIME IS NOT TIME, IT'S AN INSTANT, AND WITHIN THAT INSTANT IT SEEMS ROME DOES NOT LOOK AT THE INSTANT AS SUCH, BECAUSE THEY DO NOT COMPLY WITH MY PETITION.
Blessed Virgin Mary to Luz de María
MARCH 5, 2014
My beloved, this generation has committed a grave error and a great offense against Me. This grave offense is having ignored My Petition made in Fatima: to consecrate Russia to My Immaculate Heart…
YOU, MY CHILDREN, MOSTLY IGNORE THE DEVASTATION, NOT ONLY OF THE SPIRIT BUT OF ALL OF CREATION WITH WHICH COMMUNISM WILL CRUSH THIS GENERATION.
Blessed Virgin Mary to Luz de María
FEBRUARY 7, 2013
I call you to renew the Consecration to My Immaculate Heart with frequency so that the enemy is driven away.
My Son has called you to be participants of that Holy Remnant that discloses, preaches, builds and is action so that all your brothers and sisters are participants in the possibility of knowing and sharing these Divine Calls.
The man who is called and aborts the Mission that he is entrusted, is a prisoner of himself, by being defeated by his own will. A person is not given a mission he or she cannot complete, but what is given to him or her is to be shared with his or her brothers and sisters and to edify them.
IN THIS INSTANT, THE HEROES ARE NOT THOSE WHO SLEEP, ARE NOT THOSE WHO DON'T TAKE RESPONSABILITIES BUT THOSE WHO KNOWING WHAT APPROACHES, GIVE EVERYTHING OF THEMSELVES FOR SOULS.
Blessed Virgin Mary to Luz de María
FEBRUARY 24, 2013
The moments you expected accelerated the move and the direction of the Prophecies and you have not yet consecrated Russia to the Immaculate Heart of My Mother, being knowledgeable those who are consecrated to My service, of the importance of this Consecration. It would change the destiny of mankind.
They have known the Third Secret of Fatima revealed by My Mother and they have left it aside to avoid creating controversy with My People, who walks blindly, because, if they knew what My Mother announced, the heart of man would remain alert and attentive to all that descends from above and will seek the sanctity of the Institution, My Church, and would differentiate between what is true and what the impostor will give to My children, this being, a serious offense against Me and My Mother, who will definitely be discarded as an object.
Blessed Virgin Mary to Luz de María
AT THE FEAST OF OUR LADY OF FATIMA
MAY 13, 2013
TOGETHER WITH MY HEART ON THIS SPECIAL DAY, RAISE YOUR VOICE AND ASK THE HOLY SPIRIT TO RECEIVE THIS REQUEST OF MINE so that each personal consecration that you renew this day to My Immaculate Heart, raises your consciousness and understanding so that you discern the instant in which you live and fully grasp the depth of this Call of Mine.
I ASSURE THOSE WHO CONSECRATE THEMSELVES CONSCIOUS OF WHAT THEY PROMISE, THAT THEY WILL BE GUARDED BY ME so they are not lost, if they persevere in faith.
MY CALL AT FATIMA IS FOR ALL OF HUMANITY, for all men, women, young people and children of this generation. It is not for a determined sector but for humanity in general who must awaken, become conscious and change the path of the events, before it is too late.
WITH LABOR PAINS I PRONOUNCED AN URGENT CALL IN SEARCH OF WORLD PEACE; I called you to join forces so that you do not destroy one another, thus avoiding the Third World War, which as you can note, with the weapons the great powers possess, can destroy in very little time three fourths of humanity. This is not fantasy but a harsh reality.
I WARNED YOU ABOUT THE THIRD WORLD WAR: if man did not change, if you did not turn to My Son, war would be a punishment due to the sin with which humanity has given itself over into the clutches of the devil, who will lead humanity to commit the most atrocious crimes and wickedness will reign everywhere.
Hunger will spread like the wind, THE INNOCENTS WILL BE TAKEN BY THEIR TRAVELING COMPANIONS WHO HAVE REMAINED PRESENT ACROSS HUMAN HISTORY, AND ONCE AGAIN, THOSE WHO LIVE IN THE DIVINE WILL, shall intervene for the good of those who suffer the consequences of man's ruthless science.
MY FAITHFUL CHILDREN WILL AGAIN BE PERSECUTED AND CHURCHES WILL BE CLOSED, MASONRY WILL SPREAD ITS HORRORS INFILTRATED INTO THE HOUSE OF MY SON ON EARTH AND FROM WHICH HE WILL HAVE BEEN EXPELLED. The blood of the just will wipe clean the sin of the wicked.
THE CONSECRATION OF RUSSIA TO MY IMMACULATE HEART WAS NOT CARRIED OUT AS I ASKED: the Vicar of Rome united with the bishops of the world and all the believers at the same time and in unity. Russia, loved by Me, will spread its errors throughout the world and there will be lament when it is too late.
MY PRIESTS SONS, SUNKEN IN THE SETBACKS OF SOCIETY, WILL DEDICATE THEMSELVES TO ENGAGE WITH THEIR COMMUNITIES WITHOUT CARRYING SPIRITUALITY BEFORE THEM, JUST SOCIALIZATION. The houses of formation of My beloved Priests will be invaded by modernisms, distorting true mysticism and the spirituality with which they must lead.
THE GREAT IMPOSTOR WILL TAKE MY SON'S THRONE, AND THE MAJORITY WILL LOOK AT HIM PLEASED.
THE LITURGY WILL BE SATURATED WITH MODERNISMS that will offend the thrice Holy Heart of My Son…, and I will be banished.
Blessed Virgin Mary to Luz de María
OCTOBER 16, 2013
I invite you, My children, to continue consecrating yourselves to My Immaculate Heart every day, the instants merits it and in your personal consecration do not forget to consecrate Russia as I asked when I revealed My Third Secret at Fatima.
Our Lord Jesus Christ to Luz de María
OCTOBER 23, 2013
And to all those souls who remain before Me supplicating, humble and obedient, fighting against all of evil's machinery, I INVITE TO SPREAD MY WORD AND TO LEAD ALL TO THE KNOWLEDGE OF THE CONSECRATION TO MY MOTHER'S IMMACULATE HEART, URGENTLY, IN THIS COMPELLING MOMENT FOR THIS GENERATION.
My beloved, before the warnings of an economy that is sunken, lost and suffocating, maintain Peace. It is not with the god man adores and that rules the will of the materialist man, it is not with that false god of money with which My People will reach Me; it is with the awareness of and obedience to My Words and with the faithful fulfillment of My Commandments, it is with the constant sojourn of each one of you in the Divine Will, and it is with My People's action, being living testimonies of My palpitating Love.