Scientists estimate eruption at 10 megatons
Scientists from NASA were measuring the power of the dangerous explosion that took place on 15 January.
"We come up with a number that's around 10 megatons of TNT equivalent", said James Garvin, the scientist at NASA's Goddard Space Flight Center.
"The eruption was heard as far away as Alaska and was likely one of the loudest event over the century. This might be the loudest eruption since Krakatau in 1883", says Michael Poland, the geophysicists from USGS.
The force of the eruption was more than 9000 times as strong as the 2020 Beirut explosion.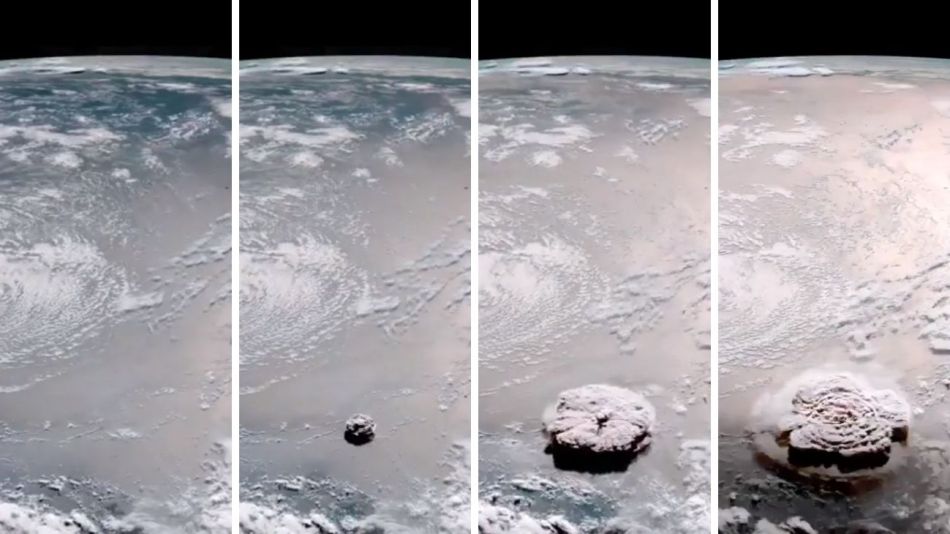 Highest eruption plume in modern times ever.
Based on preliminary satellite data from global weather radars, an estimated height of the eruption column likely reached an altitude of 39 km (128,000 ft)!
This detail has yet to be confirmed, but if correct, that's the highest eruption plume in modern times ever.
Third lap of shockwave recorded
A third pass of the atmospheric pressure wave around the globe was recorded by the Icelandic Meteorological Office (IMO).
An attached pressure diagram depicts 6 pressure peaks rather than 3 because the wave arrives twice, both from N-NW and from S-SE with 10-hours delay between the peaks as informed Dr. Evgenia Ilyinskaya, the researcher of Leeds University.
Sources:
https://www.volcanodiscovery.com/hunga ... -erup.html
https://www.volcanodiscovery.com/hunga- ... atons.html
https://www.volcanodiscovery.com/hunga- ... orded.html