Español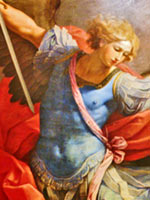 Pueblo de Dios:
COMO JEFE DE LOS EJÉRCITOS CELESTIALES, POR DISPOSICIÓN DE LA TRINIDAD SACROSANTA, LES COMUNICO:
Pueblo de Dios, van a celebrar el Nacimiento de Nuestro Rey y Señor Jesucristo, nacido de Nuestra Reina y Madre de la Voluntad Divina, Pura y sin Mancha de Pecado Original.
CADA CRIATURA HUMANA DEBE OFRENDAR AL DIVINO NIÑO UN CORAZÓN NUEVO PARA AMAR, CON SENTIMIENTOS RENOVADOS PARA MANTENERSE ESPIRITUALMENTE BIEN.
Pueblo de Dios, el desear ser más, en todo aspecto de la vida, es en este momento casi un deber que se ha impuesto el hombre en general y ninguna criatura humana que no transforme su interior, logrará crecer en el espíritu, ya que para ello es necesario un corazón libre de las inmundicias mundanas, sobre todo la SOBERBIA.
La humanidad ha crecido en incertidumbre, se encuentra enardecida y esto es una enfermedad contagiosa que se extiende como una pandemia en el mundo.
¿A QUÉ SE DEBERÁ?
A que los hombres, con la pobreza espiritual, son fácil alimento para los espíritus del mal que vagan por el mundo. No es una invención, el mal vaga por el mundo ante la inminente llegada del engañador.
Miran el cambio en el comportamiento de la naturaleza y lo niegan, CIEGOS QUE CON OJOS NO QUIEREN VER LA REALIDAD; miran las convulsiones en varios países y niegan que la humanidad se contagia y se enardece, CIEGOS QUE CON OJOS NO QUIEREN VER LA REALIDAD; miran el aborto y no asumen la responsabilidad de ser los nuevos Herodes de este siglo, CIEGOS QUE CON OJOS NO QUIEREN VER LA REALIDAD (Cfr. Sal 135,16; Mc 8,18).
Viven como desean, los hombres visten de seda y con atuendos de mujer, las mujeres con atuendos de hombre y niegan que la humanidad va hacia el precipicio, CIEGOS QUE CON OJOS NO QUIEREN VER.
¿QUÉ SUCEDIÓ A SODOMA Y GOMORRA?
¿QUÉ SUCEDERÁ A ESTA GENERACIÓN QUE NO QUEDARÁ IMPUNE ANTE TANTO PECADO?
Celebran el nacimiento del Niño Jesús, Rey de Cielos y Tierra, pero ya le han condenado a padecer los ultrajes y aberraciones, las herejías y las profanaciones, los errores con que se desean modernizar y sacar lo Divino y suplantarlo, por ídolos. ¿Dónde ha quedado el sacrificio de la cruz?
¡LAMENTOS EN EL CIELO, LAMENTOS EN LA TIERRA!
UN NIÑO INOCENTE, HIJO DEL DIOS VIVO, VERDADERO QUE LLEGÓ A LA TIERRA, "EL NIÑO DIOS, REY DE CIELOS Y TIERRA" DESEA QUE LE ENTREGUEN NUEVAMENTE LO QUE ES DE ÉL, UN ESPÍRITU NUEVO PARA QUE AMEN COMO ÉL AMA Y NO SE EXTRAVÍEN EN LOS MODERNISMOS QUE MANTIENEN EN EL INTERIOR A SATANÁS.
Pueblo de Dios, orante, ofreciendo sacrificios y ayunos, ustedes, grupos de oración que ayunan y oran, que se mantienen como centinelas y no se duermen, sino velan para que el mal no continúe robando almas sencillas y desprevenidas o duras y que mediante el ayuno y la oración logran doblegar en el nombre de Dios. Pueblo de Dios que ora y ofrece, ofrece y ora, son faros de luz en medio de las tinieblas, no decaigan levanten el rostro, que Dios les mira y nosotros les protegemos, para que si es su voluntad, les guiemos hacia el camino correcto, hacia el que no se van a extraviar.
Criaturas del hombre Dios, cada uno lleva en su corazón a ese Niño que deben despertar y llevar a renacer para que se entreguen sin pensar en ustedes, sino en la salvación de las almas.
UN NIÑO HA NACIDO, UN NIÑO QUE VINO A SALVAR ALMAS, UN NIÑO QUE SIENDO DIOS VIENE A SOLICITARLES SE ACERQUEN A ÉL Y LE OFRENDEN EL ORO DEL ALMA, EL INCIENSO DEL SACRIFICIO DE CADA UNO POR MANTENERSE EN EL VERDADERO CAMINO Y LA MIRRA DE CONTINUAR GUARDANDO LA TRADICIÓN QUE ÉL LES TRAJO PARA QUE SE MANTENGAN HASTA SU SEGUNDA VENIDA.
HOY ESTE NIÑO, NUESTRO REY, DESEA EL REGALO DE LA FIDELIDAD, DEL SACRIFICIO, DE LA VOLUNTAD HUMANA FUSIONADA A ÉL.
Unidos adoremos al que vino al mundo para ser Rey. Por los siglos de los siglos. Amén.
GLORIA A DIOS EN EL CIELO Y EN LA TIERRA PAZ A LOS HOMBRES DE BUENA VOLUNTAD.
¿QUIÉN ES COMO DIOS?
¡NADIE COMO DIOS!
San Miguel Arcángel
AVE MARÍA PURÍSIMA, SIN PECADO CONCEBIDA
AVE MARÍA PURÍSIMA, SIN PECADO CONCEBIDA
AVE MARÍA PURÍSIMA, SIN PECADO CONCEBIDA
COMENTARIO DE LUZ DE MARÍA
Hermanos:
¡UN NIÑO HA NACIDO, EL NIÑO DE LA HUMILDAD Y DE LA OBEDIENCIA AL PADRE!
San Miguel nos habla a cada uno al oído, al corazón, para que no sigamos lo mundano, sino sea cada uno el que logre el esfuerzo infinito de mantenerse fiel. No es decir que se es fiel a Cristo Rey, sino es obrar y actuar dentro de lo que esa fidelidad implica y dar testimonio de ello.
Amén.
Luz de María
–San Miguel Arcángel a Luz de María – 23.DIC.2019

English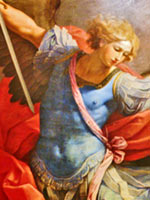 People of God:
AS CHIEF OF THE HEAVENLY HOSTS, BY PROVISION OF THE HOLY TRINITY, I COMMUNICATE TO YOU:
People of God, you will celebrate the Birth of Our King and Lord Jesus Christ, born of Our Queen and Mother of the Divine Will, Pure and with no Stain of Original Sin.
EVERY HUMAN CREATURE MUST OFFER THE DIVINE CHILD A NEW HEART, TO LOVE WITH RENEWED FEELINGS, TO KEEP SPIRITUALLY WELL.
People of God, the desire to be more, in every aspect of life, is at this moment almost a duty that man in general has imposed himself and no human creature who does not transform its interior, will grow in the spirit, since for this is necessary a heart free from worldly filth, especially PRIDE.
Humanity has grown in uncertainty, is enraged, and this is a contagious disease that spreads like a pandemic in the world.
WHY IS IT SO?
Because men, with spiritual poverty, are easy prey for the spirits of evil that roam over the world. It is not an invention, evil wanders the world in the face of the imminent arrival of the deceiver.
They see the change in the behavior of nature and deny it, BLIND ONES WHICH HAVING EYES DO NOT WANT TO SEE THE REALITY; they see the convulsions in several countries and deny that humanity is infected and inflamed, BLIND ONES WHICH HAVING EYES DO NOT WANT TO SEE REALITY; they see abortion and do not assume the responsibility of being the new Herods of this century, BLIND ONES WHICH HAVING EYES DO NOT WANT TO SEE REALITY (cf. Pss 135,16; Mk 8.18).
They live as they wish, men dress in silk and with women's attire, women in men's attire and deny that humanity is going to the precipice, BLIND ONES WHICH HAVING EYES DO NOT WANT TO SEE.
WHAT HAPPENED TO SODOM AND GOMORRAH?
WHAT WILL HAPPEN TO THIS GENERATION THAT WILL NOT REMAIN UNPUNISHED BEFORE SO MUCH SIN?
They celebrate the birth of the Child Jesus, King of Heaven and Earth, but have already condemned Him to suffer the outrages and aberrations, heresies and desecrations, the mistakes with which they wish to modernize and take out the Divine and supplant it, with idols. Where is the sacrifice of the cross?
LAMENTS IN HEAVEN, LAMENTS ON EARTH!
AN INNOCENT CHILD, CHILD OF THE LIVING GOD, TRUE WHO ARRIVED TO EARTH, "THE CHILD GOD, KING OF HEAVEN AND EARTH" WANTS TO RECEIVE AGAIN WHAT BELONGS TO HIM, A NEW SPIRIT SO THEY MAY LOVE AS HE LOVES, NOT STRAYING INTO THE MODERNISMS THAT KEEP SATAN INSIDE.
People of God, praying, offering sacrifices and fasts, you, prayer groups that fast and pray, which remain as sentinels and do not fall asleep, but watch over so that evil does not continue stealing simple and unsuspecting or hard souls and that through fasting and prayer manage to overcome in the name of God. People of God who prays and offers, offers and prays, you are beacons of light in the midst of darkness, do not decay raise your face, that God looks at you and we protect you, so that if it is His will, we may lead you on the right path, towards the one which you will not go astray.
Creatures of the man God, each one of you carries in their heart that Child that you must awaken and lead to be reborn so that you may surrender without thinking of yourself, but in the salvation of souls.
A CHILD HAS BEEN BORN, A CHILD WHO CAME TO SAVE SOULS, A CHILD WHO BEING GOD COMES TO ASK YOU TO APPROACH HIM AND OFFER HIM THE GOLD OF THE SOUL, THE INCENSE OF THE SACRIFICE OF EACH ONE OF YOU IN REMAINING ON THE TRUE PATH AND THE MYRRH OF CONTINUE KEEPING THE TRADITION THAT HE BROUGHT YOU TO BE UNITED UNTIL HIS SECOND COMING.
TODAY THIS CHILD, OUR KING, WANTS THE GIFT OF FIDELITY, OF SACRIFICE, OF HUMAN WILL FUSED TO HIM.
United let us worship the one who came into the world to be King. For ever and ever. Amen.
GLORY TO GOD IN HEAVEN AND ON EARTH PEACE TO THE MEN OF GOOD WILL.
WHO IS LIKE GOD?
NO ONE IS LIKE GOD!
HAIL MARY MOST PURE, CONCEIVED WITHOUT SIN
HAIL MARY MOST PURE, CONCEIVED WITHOUT SIN
HAIL MARY MOST PURE, CONCEIVED WITHOUT SIN
LUZ DE MARIA'S COMMENTARY
Brothers and sisters:
A CHILD HAS BEEN BORN, THE CHILD OF HUMILITY AND OBEDIENCE TO THE FATHER!
St Michael speaks to each one of us in the ear, to the heart, that we may not follow the worldly, but may each one achieve the infinite effort to remain faithful. It is not to say that one is faithful to Christ the King, but it is to work and act within what that fidelity implies and bear witness to it.
Amen.
Luz de Maria
–St. Michael the Archangel to Luz de María – Dec. 23, 2019