Español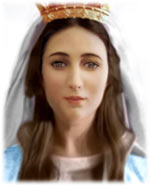 Amados Hijos de Mi Corazón Inmaculado:
MI MATERNIDAD ES PARA TODOS LOS HIJOS DE MI HIJO, A LOS QUE AMO CON AMOR ETERNO.
REGRESEN A MI HIJO, NO SE ENTREGUEN AL MAL CON TANTA FACILIDAD.
Miro a la Tierra enardecida por la violencia, esa que desde antaño les había alertado que se generalizaría si no cambiaban y omitieron Mis Palabras.
Conforme transcurra el tiempo los acontecimientos se irán generalizando por el atasco espiritual en que vive la humanidad. Ante la creciente maldad con que el Demonio guía a quienes poseen una fe débil o no poseen fe.
LA IGLESIA DE MI HIJO VIVE SU ENCRUCIJADA, LA QUE LES HE ANUNCIADO. SE ESCANDALIZAN DE LO QUE LES HE ADVERTIDO CON ANTERIORIDAD Y NO HABÍAN CREÍDO, ASÍ SUCEDERÁ CON TODO LO QUE IRÁ ACONTECIENDO Y HASTA QUE SE VAYA CUMPLIENDO DIRÁN: ¡SÍ, LO HABÍA ANUNCIADO EL CIELO PARA QUE NOS PREPARÁRAMOS CON UNA FE FIRME MEDIANTE UN CAMBIO DE VIDA, CON LA CONVERSIÓN!
No es tarde, la Misericordia Divina les espera. Como Madre deseo que se eviten mayores calamidades espirituales ante los titubeos en la fe, y deseo evitar que algunos reaccionen como Judas o dando las perlas a los cerdos (Cfr. Mt 7,6).
¡Cuántos de Mis Hijos Predilectos han cedido ante el poder de los enemigos de Mi Hijo para obtener poder humano, llevando al despeñadero a las ovejas de Mi Hijo!
Son estos los tiempos señalados, en los que la Tribulación será padecida por los fieles a Mi Hijo, en que algunos Templos han sido profanados y tomados para actos mundanos, pecaminosos, permitiendo la libertad al Demonio para que tome a Mis pobres hijos y les corrompa. ¡AY DE AQUELLOS QUE LO HAN PERMITIDO!
La santidad la han modernizado. Los verdaderos santos no son queridos dentro de la Iglesia de Mi Hijo, son alejados para que no exijan santidad.
Sean criaturas de fe, valientes ante los cambios, manteniéndose firmes cada uno en su lugar. Saben que se mantienen luchando constantemente contra los que no aman a Mi Hijo, contra los desobedientes y los que desean que no formen parte del Pueblo de Dios.
CADA UNO DE MIS HIJOS, MIRARÁ LO QUE HA OBRADO O ACTUADO PARA BIEN Y LO QUE NO HA ACTUADO U OBRADO PARA BIEN, EL BIEN QUE HA DEJADO DE HACER Y EL QUE HA REALIZADO. EL EXAMEN INTERIOR SERÁ VIVIDO POR USTEDES Y ¡CUÁNTO SE ARREPENTIRÁN DE NO HABER OBEDECIDO!
Existen ciegos que separan a Mis hijos de lo correcto, y Mis hijos caen en la trampa, sin pensar en que en estos instantes el demonio como león rugiente ataca a Mis hijos (Cfr. I Pe. 5, 8-10) para alejarles del lugar que a cada uno le reservó Mi Hijo.
No alimenten al Demonio con el odio ni el rencor, con la incredulidad que lleva a la falta de fe. Tengan la certeza de que el Demonio adormece la mente del hombre, la seda para que no mire el presente ni recapacite sobre el futuro próximo, en el cual tienen que ser fuertes y firmes en la fe.
"CON LA VARA QUE MIDEN SERÁN MEDIDOS" (Cfr. Mt,7,2), POR ELLO TENGAN PRUDENCIA EN ESTE INSTANTE EN QUE SE ACTÚA A LA LIGERA, SIN UN FUNDAMENTO VERDADERO, SÓLIDO.
No se mantienen atentos a los Llamados del Cielo, critican las Revelaciones para no cambiar de vida, viviendo de esa forma en el estanque de las aguas nauseabundas del pecado, la desobediencia y la falta de fe.
VIVEN EN EL INSTANTE ANUNCIADO POR MÍ, EN DONDE LA CONFUSIÓN SE APODERA DEL PUEBLO DE MI HIJO, EN EL INSTANTE EN DONDE LAS NOVEDADES SUPLANTARÁN LA VERDADERA DOCTRINA, EN DONDE HERIRÁN AL PASTOR Y LAS OVEJAS SE DISPERSAN (Cfr. Mt 26,31).
Oren hijos Míos, oren por la Iglesia para que como Cuerpo Místico de Mi Hijo, resista los embates de las novedades que no son Voluntad Divina.
Oren hijos Míos, oren por cada uno de ustedes, para que no se separen de la fe, la esperanza y la caridad.
Oren hijos, oren por Bolivia. Se estremece.
Oren hijos Míos, oren por Estados Unidos. Continúa padeciendo por la naturaleza.
Oren hijos Míos, oren. El caos llega a la Argentina.
Sean valientes hijos Míos, manténganse unidos a la Cruz de Gloria y Majestad, sean humildes al Llamado de Mi Hijo y mantengan la unidad acudiendo a recibir a Mi Hijo en la Eucaristía debidamente preparados y con el Santo Rosario en la mano.
AUNQUE VIVAN PROBANDO EL SUFRIMIENTO, NO OLVIDEN QUE LOS QUE PADECEN POR CAUSA DE AMAR A MI HIJO, SERÁN RECOMPENSADOS EN EL CIELO. COMO HUMANIDAD SE ENCUENTRAN EN LOS DOLORES DEL CUMPLIMIENTO DE LAS REVELACIONES, POR LO CUAL DEBEN SER HOMBRES Y MUJERES DE FE FIRME, PARA QUE RESISTAN LOS EMBATES. COMO MADRE LES LLAMO A NO DECLINAR. EN CADA UNO DE USTEDES SE ENCUENTRA LA RESPUESTA.
Les Amparo, les acompaño, les tengo de Mi Mano.
Les bendigo.
Mamá María
AVE MARÍA PURÍSIMA, SIN PECADO CONCEBIDA
AVE MARÍA PURÍSIMA, SIN PECADO CONCEBIDA
AVE MARÍA PURÍSIMA, SIN PECADO CONCEBIDA
-Santísima Virgen María a Luz de María – 20.OCT.2019

English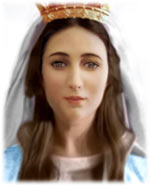 Beloved Children of My Immaculate Heart:
MY MATERNITY IS FOR ALL THE CHILDREN OF MY SON, TO WHOM I LOVE WITH ETERNAL LOVE.
RETURN TO MY SON, DO NOT SURRENDER TO EVIL SO EASILY.
I see Earth enraged by violence, that which I had previously alerted that it would become generalized if you did not change, and man omitted My Words.
As time goes on, events will become more generalized by the spiritual jam in which humanity lives. Faced with the growing evilness with which the Devil guides those who possess a weak faith or have no faith.
THE CHURCH OF MY SON LIVES ITS CROSSROADS, THOSE WHICH I HAVE ANNOUNCED. MAN IS SCANDALIZED OF WHAT I HAVE PREVIOUSLY WARNED HIM AND HE DID NOT BELIEVE, THE SAME WILL HAPPEN WITH THE COMING EVENTS AND AS THEY COME TO FULFILLMENT, MAN WILL SAY: YES, HEAVEN HAD WARNED US FOR US TO PREPARE WITH A STRONG FAITH, BY CHANGING OUR LIFE, BY CONVERSION!
It is not too late, Divine Mercy awaits you. As Mother, I wish that greater spiritual calamities be avoided in the face of hesitations in faith, and I wish to prevent some from reacting like Judas or throwing the pearls to the swine (Cf. Mt 7,6).
How many of My Favorite Children have yielded to the power of My Son's enemies to gain human power, leading the sheep of My Son to the cliff!
These are the appointed times, in which the Tribulation will be suffered by the faithful to My Son, in which some Temples have been desecrated and taken for worldly, sinful acts, allowing the Devil freedom to take My poor children and corrupt them. WOE TO THOSE WHO HAVE ALLOWED IT!
Holiness has been modernized. True saints are not loved within the Church of My Son, they are banished so to render them unable to demand holiness.
Be creatures of faith, brave in the face of change, standing firm in their place. You know that you remain in a constant struggle with those who do not love My Son, against the disobedient, and those who want you not to be part of the People of God.
EACH ONE OF MY CHILDREN WILL SEE THE RESULT OF HIS WORKS AND ACTIONS FOR GOOD AND WHAT HE HAS NOT WORKED OR ACTED FOR GOOD, THE GOOD YOU HAVE FAILED TO DO AND THE ONE YOU HAVE DONE. THE INNER EXAMINATION WILL BE LIVED BY YOU, AND HOW MUCH WILL YOU REGRET NOT HAVING OBEYED!
There are blind people who separate My children from what is right, and My children fall into the trap, without thinking that at this instants the devil, like a roaring lion, attacks My children (Cf. I Pet 5, 8-10) to get them away from the place that My Son reserved for each one of them.
Do not feed the Devil with hatred or spite, with the disbelief that leads to lack of faith. Be certain that the Devil numbs the mind of man, sedates it for man not to look at the present or meditate on the near future, in which you must be strong and firm in faith.
"WITH THE MEASURE WITH WHICH YOU MEASURE YOU WILL BE MEASURED" (cf. Mt,7,2), THEREFORE HAVE CAUTION IN THIS INSTANT IN WHICH MAN ACTS LIGHTLY, WITHOUT A TRUE, SOLID FOUNDATION.
You do not remain attentive to the Calls of Heaven, the Revelations are criticized so as not to change your lives, living in this way in the pond of the nauseating waters of sin, disobedience and lack of faith.
YOU LIVE IN THE INSTANT ANNOUNCED BY ME, WHEN THE CONFUSION SEIZES THE PEOPLE OF MY SON, IN THE INSTANT WHEN THE NOVELTIES WILL SUPLANT THE TRUE DOCTRINE, WHEN THE SHEPHERD WILL BE HURT AND THE SHEEPS DISPERSED (cf. Mt 26:31).
Pray My children, pray for the Church so that as Mystical Body of My Son, may resist the onslaught of novelties that are not Divine Will.
Pray My children, pray for each one of you, so that you do not separate from faith, hope, and charity.
Pray children, pray for Bolivia. It shudders.
Pray My children, pray for the United States. It keeps suffering from nature.
Pray My children, pray. Chaos arrives to Argentina.
Be brave My children, remain united to the Cross of Glory and Majesty, be humble to the Call of My Son and keep unity by coming to receive My Son in the Eucharist properly prepared and with the Holy Rosary in hand.
EVEN IF YOU ARE USED TO TASTING THE SUFFERING, DO NOT FORGET THAT THOSE WHO SUFFER BECAUSE OF LOVING MY SON WILL BE REWARDED IN HEAVEN. AS HUMANITY YOU ARE AT THE PAINS OF THE FULFILLMENT OF THE REVELATIONS, THUS YOU MUST BE MEN AND WOMEN OF STRONG FAITH TO RESIST THE ASSAULTS. AS MOTHER I CALL YOU NOT TO DECLINE. THE ANSWER IS WITHIN EACH ONE OF YOU.
I Protect you, I Accompany you, I have you from My Hand.
I bless you.
Mom Mary
HAIL MARY MOST PURE, CONCEIVED WITHOUT SIN
HAIL MARY MOST PURE, CONCEIVED WITHOUT SIN
HAIL MARY MOST PURE, CONCEIVED WITHOUT SIN
-Blessed Virgin Mary to Luz de Maria – Oct. 20, 2019
