English
(…) this is the so critical "moment" that the world elite has waited for, you are in it, this is why they expose all their plans in advance so that you would not reject them.
The great interests of earthly power know how to penetrate the unconscious mind of the human creature and have already installed what they need for this purpose. Large antennas of apparent reception and emission of high technology are the objects used to penetrate the subconscious of the human creature and lead it to work and act contrary to the Divine Will. THERE IS AN ANTIDOTE FOR THIS: (…)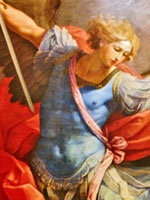 Beloved People of God, I share with you the Divine Love.
Children of the Most Holy Trinity:
YOU ARE PROTECTED EVERY MOMENT IN YOUR WORKS AND ACTS SO THAT YOU MAY KEEP ON THE PATH THAT LEADS YOU TO ETERNAL LIFE, WITHOUT FORCING YOUR FREE WILL.
You must continuously examine yourselves so that neither your works nor your acts would lead you to bear witness contrary to the Divine Love that warns you.
People of God, do not deviate into other paths, continue to be doers of the Divine Will to remain safe.
Humanity needs to merge with the Most Holy Trinity, with Our Queen and Mother of Heaven and Earth, with the Commandments of the Law of God.
Humanity is easily deceived in the face of lack of Faith, in the face of the infinity of liberal ideas, sects and ideologies that, dressed in good clothes, walk around without the People of God realizing their purpose to divert them and lead them to fall totally into the hands of evil.
You are easy prey to those who are sent by evil to agitate humanity so that it would rebel for everything and against everything impregnated with good. Your minds are governed by them when the creature is weak and unspiritual, when it does not reason, when it does not resist the insinuations of evil. Some think that they are mature in the Faith and it is not so, the mind takes them where it wishes, at its whim, allowing offenses to come out of their mouths towards Our King and Lord Jesus Christ, towards Our Queen and Mother and towards the Gift of Life. (Rom. 12,2)
People of God, you lose the equanimity, the reason, the axis that within you, must keep you focused on Divine Works and Acts and in an instant, you fall like the Pharisees, allowing all filth and offense towards your neighbor to come out of your mouths.
CREATURES OF MASKS!… YOU HAVE TO CONVERT, NOW! BEFORE THE DAY DARKENS AND THE DARKNESS BECOMES OWNER OF THE DESOLATION.
They have handed over the destiny of humanity into demonic hands by backing the anti-natural laws that offend the Divine Heart; You welcome whatever comes to you without meditating, they have limited your daily life works and acts to prepare you for the public appearance of the Antichrist.
People of God, the elite have ruled all of humanity behind the scenes. At this time it is no longer a myth to most of the people and they are presented before all human creatures demonstrating that economic power has been leading humanity at its whim.
Why is it that they make a display of themselves before you, children of God?
They lead you and want their faces to be known to the majority so that when they issue orders, you will accept. And it is that this is the so critical "moment" that the world elite has waited for, you are in it, this is why they expose all their plans in advance so that you would not reject them.
Facing this I summon you, as Prince of the Heavenly Legions, to proclaim together with Me:
"YOURS, O FATHER, IS THE KINGDOM, AND THE POWER AND THE GLORY FOREVER AND EVER. AMEN."
The People of God must be heard praying, working and acting in Divine Love so that they would defeat the enemy of the soul.
The testimonial prayer is the one that is not only expressed with the voice, but also with the heart and finds its culmination in the neighbor. Working and acting thus, at the same time weakens the Devil and his minions, who have taken over the main earthly powers to issue directives contrary to the Divine Word.
People of God, are you expecting persecution? Yes, you will be persecuted after the power of evil tests you in the Faith, after it leads you to feel helpless, weakened… But they will not succeed at this with the faithful People: converted and convinced. (1 Pe. 1:7)
IN GOD ONE AND TRIUNE, THE PEOPLE OF GOD UNITED UNDER THE PROTECTION OF OUR AND YOUR QUEEN AND MOTHER AND ACCEPTING THE PROTECTION OF THE HEAVENLY LEGIONS AND OF THE BLESSED FROM EACH PERSONAL DEVOTION, WILL STOP THE ATTACKS OF THE DEVIL THAT THROUGH MANIPULATION OF THE SUBCONSCIOUS WANTS TO GET INTO THE MIND OF THE TRUE PEOPLE OF GOD.
The great interests of earthly power know how to penetrate the unconscious mind of the human creature and have already installed what they need for this purpose. Large antennas of apparent reception and emission of high technology are the objects used to penetrate the subconscious of the human creature and lead it to work and act contrary to the Divine Will. THERE IS AN ANTIDOTE FOR THIS:
THAT YOU KEEP WITHIN THE TRUE FAITH…
THAT YOU LIVE WORKING AND ACTING IN GOOD…
THAT YOU LOVE GOD ABOVE ALL THINGS AND YOUR NEIGHBOR AS YOURSELF…
THIS WILL STOP THE ACTION OF EVIL IN YOU.
IF YOU REMAIN IN THE DUE SPIRITUAL STATE THE PRESENCE OF THE DIVINE SPIRIT WILL SET YOU FREE FROM THIS EVIL, KEEP IN MIND "IN THE DUE SPIRITUAL STATE FOR THE DIVINE SPIRIT TO ACT IN YOU AND THUS YOU WILL POSSESS THE ANTIDOTE AGAINST THAT GOVERNMENT." This good will be enjoyed by those who are on the way to conversion and by the human creatures who are heading on the path of Eternal Salvation.
This generation is living the imposition of the elite, which is taking the power from everything and of everything on Earth, to hand over humanity to the Antichrist, consolidating the one-religion, the one-government, the one-currency, the one-education, in their whim to imitate God, One and Triune.
People of God do not lose Faith, live without leaving the Divine Environment. Do not say: "I will remain until the end", keep those words in the secret of your heart. Some who call themselves faithful to God will lose Faith out of fear and ignorance of these final events.
The brothers in Faith, are those who now and later will shake hands at these times in which you are.
REMAIN IN THE REFUGE OF THE SACRED HEARTS OF OUR KING AND LORD JESUS CHRIST AND OF OUR QUEEN AND MOTHER, THEN YOU WILL BE GUIDED BY MY LEGIONS TO THE SHELTERS PREPARED TO PROTECT YOU. THE HOMES TRULY DEDICATED TO THE SACRED HEARTS ARE ALREADY A REFUGE FROM NOW ON.
YOU WILL NEVER BE ABANDONED BY THE HAND OF GOD.
The suffering of the Earth continues and with it the suffering of humanity.
The Church of Our King and Lord Jesus Christ is shaken, the strife leads Her to the Schism. Keep the Faith, do not despair, do not scatter, you are protected by My Legions, the Divine Will has granted the power to Our Queen and Mother to defeat Satan.
DO NOT FEAR, THE CHILDREN OF GOD HAVE THE CERTAINTY OF DIVINE PROTECTION AT ALL TIMES.
Be attentive, children of God, be attentive!
The struggles from nature continue, some proper of nature, others generated by men of science who serve evil.
Volcanoes are activated and the sea churns. IN THE FACE OF THIS, THE PEOPLE OF GOD DOES NOT FALL, BUT REMAINS ON FOOT, WITH FAITH IN THE PROTECTION OF THEIR LORD AND GOD.
People of God:
DO NOT FEAR, DO NOT FEAR, DO NOT FEAR!
YOU ARE NOT ALONE, HAVE A FIRM FAITH.
In Divine Love.
Saint Michael the Archangel
HAIL MARY MOST PURE, CONCEIVED WITHOUT SIN
HAIL MARY MOST PURE, CONCEIVED WITHOUT SIN
HAIL MARY MOST PURE, CONCEIVED WITHOUT SIN
COMMENTARY BY LUZ DE MARIA
Brothers and sisters:
Our Beloved Saint Michael the Archangel, gives us His Word calling by name the technological elements that evil and its creatures use to act against the People of God.
The misused technology makes its steps upon the human creature, directly intervening on its fast life, leading it to think that things will continue as before.
Humanity, dehumanized, has become accustomed to relating better to a technological object than to a brother, and this is not a coincidence but rather the cause of the efforts of the world elite to dominate man at this moment through antennas that have extremely high frequency channels that can interfere with any nearby living organism. The penetration of these frequencies can pass through with great ease, buildings, houses, man's tissues and other living beings … It is an extreme electromagnetic exposure that can condition or alter the psyche of man.
Brothers and sisters Saint Michael the Archangel alerts us on this topic because it is a tool that makes it easier for evil to send information to the human subconscious, since these electromagnetic fields are not perceived by the senses and the human creature will not know what happens or why, it will just act. Let us remember that keeping to the Commandments and their practice, being more spiritual, staying attentive to the union with the divine, working and acting in accordance with Christ and our Mother are antidotes that limit the action of evil upon the human creature.
Saint Michael the Archangel,
defend us in battle.
Be our protection against the wickedness and
snares of the devil;
May God rebuke him, we humbly pray;
And do thou, O Prince of the Heavenly Host,
by the power of God, thrust into hell Satan
and all evil spirits who wander through the world
for the ruin of souls.
Amen.
-St. Michael the Archangel to Luz de Maria – Feb. 22, 2021

Español
(…) este es el "momento" tan álgido que ha esperado la élite mundial, se encuentran en él, por ello les exponen todos sus planes con antelación para que no los rechacen.
Los grandes intereses del poder terreno saben cómo llegar a penetrar en el inconsciente de la criatura humana y ya han instalado cuanto necesitan para este fin. Grandes antenas de aparente recepción y emisión de alta tecnología son los objetos para penetrar el inconsciente de la criatura humana y llevarla a obrar y actuar contrario a la Voluntad Divina. PARA ESTO EXISTE UN ANTÍDOTO: (…)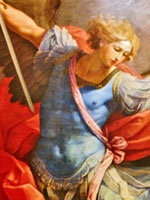 Amado Pueblo de Dios, les comparto el Amor Divino.
Hijos de la Trinidad Sacrosanta:
SON PROTEGIDOS CADA MOMENTO EN SUS OBRAS Y EN SUS ACTOS PARA QUE SE MANTENGAN DENTRO DEL CAMINO QUE LES CONDUCE A LA VIDA ETERNA, SIN VIOLENTARLES EL LIBRE ALBEDRÍO.
Deben examinarse continuamente para que ni sus obras ni sus actos los lleven a dar un testimonio contrario al Amor Divino que les alerta.
Pueblo de Dios, no se desvíen por otras sendas, continúen siendo cumplidores de la Voluntad Divina para que se mantengan seguros.
La humanidad necesita fusionarse a la Trinidad Sacrosanta, a Nuestra Reina y Madre de Cielos y Tierra, a los Mandamientos de la Ley de Dios.
La humanidad es fácil de engañar ante la falta de Fe, ante la infinidad de ideas liberales, sectas e ideologías que, revestidas de bien, se pasean sin que el Pueblo de Dios se percate de su finalidad para desviarles y llevarlos a caer totalmente en manos del mal.
Son fácil presa de quienes son enviados por el mal para agitar a la humanidad y que se rebele por todo y contra todo lo que lleva impregnado el bien. Les gobiernan la mente cuando la criatura es débil y no es espiritual, no razona, no se resiste a las insinuaciones del mal. Algunos piensan que son maduros en la Fe y no es así, la mente los lleva por donde desea, a su antojo, permitiendo ustedes que de su boca salgan ofensas hacia Nuestro Rey y Señor Jesucristo, hacia Nuestra Reina y Madre y hacia el Don de la Vida. (Rom. 12,2)
Pueblo de Dios, pierden la ecuanimidad, la razón, el eje que en ustedes les debe mantener centrados en el Obrar y Actuar Divino y en un instante, caen como los fariseos, permitiendo que de la boca salga toda inmundicia y ofensa hacia el prójimo.
¡CRIATURAS DE MÁSCARAS!… TIENEN QUE CONVERTIRSE, ¡YA!, ANTES DE QUE EL DÍA SE OSCUREZCA Y SEA LA OSCURIDAD DUEÑA DE LA DESOLACIÓN.
Han entregado en manos demoniacas el destino de la humanidad al amparar las leyes antinaturales que ofenden el Corazón Divino, acogen cuanto les llega sin meditarlo, les han limitado el normal obrar y actuar de la vida para disponerles a la aparición pública del Anticristo.
Pueblo de Dios, la élite ha gobernado a toda la humanidad detrás de bambalinas. En este momento ha pasado de ser un mito para la mayoría y se presentan ante todas las criaturas humanas demostrando que el poder económico ha estado liderando a la humanidad a su antojo.
¿A qué se debe que se muestren ante ustedes, hijos de Dios?
Les lideran y desean que sus rostros sean conocidos por la mayoría para que cuando giren órdenes, ustedes acepten. Y es que este es el "momento" tan álgido que ha esperado la élite mundial, se encuentran en él, por ello les exponen todos sus planes con antelación para que no los rechacen.
Ante esto les convoco, como Príncipe de las Legiones Celestiales, a proclamar junto a Mí:
"PADRE, TUYO ES EL REINO, EL PODER Y LA GLORIA
POR LOS SIGLOS DE LOS SIGLOS. AMÉN."
El Pueblo de Dios debe escucharse orando, obrando y actuando en el Amor Divino para que derroten al enemigo del alma.
La oración testimonial es la que no solo se expresa con la voz, sino con el corazón y encuentra su culmen en el prójimo. Este obrar y actuar a la vez debilita al Demonio y a sus secuaces, que han tomado los principales poderes terrenos para girar directrices contrarias a la Palabra Divina.
Pueblo de Dios, ¿Esperan la persecución? Sí, serán perseguidos luego de que el poder del mal les pruebe en la Fe, luego de que los lleve a sentirse desamparados, debilitados… Pero eso no lo lograrán con el Pueblo fiel: convertido y convencido. (1 Pe 1,7)
EN DIOS UNO Y TRINO, EL PUEBLO DE DIOS UNIDO AL AMPARO DE NUESTRA Y VUESTRA REINA Y MADRE Y ACEPTANDO LA PROTECCIÓN DE LAS LEGIONES CELESTIALES Y DE LOS BIENAVENTURADOS DE CADA DEVOCIÓN PERSONAL, DETENDRÁN LOS EMBATES DEL DEMONIO QUE A TRAVÉS DE LA MANIPULACIÓN DEL INCONSCIENTE DESEA PENETRAR EN LA MENTE DEL VERDADERO PUEBLO DE DIOS.
Los grandes intereses del poder terreno saben cómo llegar a penetrar en el inconsciente de la criatura humana y ya han instalado cuanto necesitan para este fin. Grandes antenas de aparente recepción y emisión de alta tecnología son los objetos para penetrar el inconsciente de la criatura humana y llevarla a obrar y actuar contrario a la Voluntad Divina. PARA ESTO EXISTE UN ANTÍDOTO:
EL QUE SE MANTENGAN EN LA VERDADERA FE…
EL QUE VIVAN OBRANDO Y ACTUANDO EN EL BIEN…
EL QUE AMEN A DIOS POR SOBRE TODAS LAS COSAS Y AL PRÓJIMO COMO A SÍ MISMO…
ESTO DETENDRÁ LA ACCIÓN DEL MAL EN USTEDES.
SI PERMANECEN EN EL DEBIDO ESTADO ESPIRITUAL LA PRESENCIA DEL ESPÍRITU DIVINO LES LIBRARÁ DE ESTE MAL, TENGAN PRESENTE "EN EL DEBIDO ESTADO ESPIRITUAL PARA QUE EL ESPÍRITU DIVINO ACTÚE EN USTEDES Y ASÍ POSEAN EL ANTÍDOTO CONTRA ESE GOBIERNO". De este bien gozaránquienes se encuentran en camino de conversión y las criaturas humanas que se dirijan al camino de la Salvación Eterna.
Esta generación vive ante la imposición de la élite, tomando esta el poder de todo y sobre todo en la Tierra, para entregarle al Anticristo la humanidad, consolidando la religión única, el gobierno único, la moneda única, la educación única, en su afán de imitar a Dios, Uno y Trino.
Pueblo de Dios no pierdan la Fe, vivan sin salir del Entorno Divino. No digan: "yo permaneceré hasta el final", guarden esas palabras en lo secreto del corazón. Algunos que se llaman a sí mismos fieles a Dios, perderán la Fe por temor e ignorancia de estos acontecimientos finales.
Son los hermanos en la Fe, los que se dan y se darán la mano en estos momentos en los que se encuentran.
PERMANEZCAN EN EL REFUGIO DE LOS SAGRADOS CORAZONES DE NUESTRO REY Y SEÑOR JESUCRISTO Y DE NUESTRA REINA Y MADRE, LUEGO SERÁN GUIADOS POR MIS LEGIONES A LOS REFUGIOS PREPARADOS PARA PROTEGERLES. LOS HOGARES ENTREGADOS VERDADERAMENTE A LOS SAGRADOS CORAZONES SON REFUGIO DESDE YA.
JAMÁS SERÁN DESAMPARADOS POR LA MANO DE DIOS.
Continúa el padecer de la Tierra y con ello el padecer de la humanidad.
La Iglesia de Nuestro Rey y Señor Jesucristo es estremecida, las contiendas le llevan al Cisma. Mantengan la Fe, no se desesperen, no se dispersen, son amparados por Mis Legiones, la Voluntad Divina le ha otorgado el poder a Nuestra Reina y Madre para que venza a Satanás.
NO TEMAN, LOS HIJOS DE DIOS TIENEN LA CERTEZA DE LA PROTECCIÓN DIVINA EN TODO MOMENTO.
¡Atentos, hijos de Dios, atentos!
Continúan los embates de la naturaleza, unos embates propios de la naturaleza, otros generados por hombres de ciencia que le sirven al mal.
Volcanes se activan y el mar se agita. ANTE ESTO EL PUEBLO DE DIOS NO SE CAE, SINO PERMANECE EN PIE, CON LA FE EN LA PROTECCIÓN DE SU SEÑOR Y SU DIOS.
Pueblo de Dios:
¡NO TEMAN, NO TEMAN, NO TEMAN!
NO SE ENCUENTRAN SOLOS, TENGAN UNA FE FIRME.
En el Amor Divino.
San Miguel Arcángel
AVE MARÍA PURÍSIMA, SIN PECADO CONCEBIDA
AVE MARÍA PURÍSIMA, SIN PECADO CONCEBIDA
AVE MARÍA PURÍSIMA, SIN PECADO CONCEBIDA
(*) EL CONTROL DEL MAL SOBRE LA MENTE Y EL INCONSCIENTE DEL HOMBRE, leer…
COMENTARIO DE LUZ DE MARÍA
Hermanos:
Nuestro Amado San Miguel Arcángel, nos da Su Palabra llamando por su nombre los elementos tecnológicos que el mal y sus engendros utilizan para actuar contra el Pueblo de Dios.
La tecnología mal empleada da sus pasos sobre la criatura humana interviniendo directamente sobre su vida tan veloz, llevándole a pensar que las cosas continuarán como antes.
La humanidad, deshumanizada se ha acostumbrado a relacionarse mejor con un objeto tecnológico que con un hermano y esto no es una casualidad sino la causa del empeño de la elite mundial para dominar en este momento al hombre a través de antenas que poseen canales de frecuencias extremadamente altas que pueden interferir en todo organismo vivo cercano. La penetración de estas frecuencias logran pasar con gran facilidad, edificios, viviendas, tejidos del hombre y demás seres vivientes… Es una exposición electromagnética extrema que puede condicionar o modificar la psiquis del hombre.
Hermanos San Miguel Arcángel nos alerta sobre este tema porque es una herramienta que facilita al mal enviar información al inconsciente humano, ya que estos campos electromagnéticos no son percibidos por los sentidos y la criatura humana no sabrá que sucede ni porque, tan solo actuará. Recordemos que el cumplimiento de los Mandamientos y su práctica, el ser más espiritual, el mantenernos atentos a la unión con lo divino, el obrar y actuar acorde a Cristo y a nuestra Madre son antídotos que limitan la acción del mal sobre la criatura humana.
San Miguel Arcángel,
defiéndenos en la batalla.
Sé nuestro amparo contra la perversidad y
asechanzas del demonio.

Reprímale, Dios, pedimos suplicantes,
y tú Príncipe de la Milicia Celestial,
arroja al infierno con el divino poder
a Satanás y a los otros espíritus malignos
que andan dispersos por el mundo
para la perdición de las almas.

Amén.
-San Miguel Arcángel a Luz de María – 22.FEB.2021
