Here is a brief selection of revelations with helpful recommendations for the COVID-19 quarantine.
I invite you not to forget the use of sacramentals. In case of contagious diseases (pestilences, plagues, others) anoint the doors and windows with holy oil. If you find yourselves sick, sprinkle the food with holy water and keep in mind the use of the medicinal plants My Mother has indicated you use for these unexpected circumstances.
Be creatures firm in faith, knowing that being endowed with reason and intelligence, you consciously obey the guidelines that the leaders of your countries indicate to you. My call is to remain alert. In this moment, humanity is threatened by illness. So at this time, you should protect and help one another with authentic love and with mercy, caring for your brothers/sisters as much as is possible, in the same way that you care for yourselves, and remain in your homes when your countries are being threatened by some epidemic.
-Our Lord Jesus Christ to Luz de Maria – May of 2009
The epidemic goes like the wind over all the Earth: be aware of it. The instant you are warned, do not expose yourself, it will not look, it will have no compassion.
-Blessed Virgin Mary to Luz de Maria – Aug. 30, 2017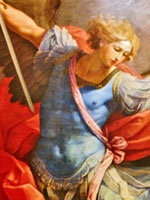 When you hear of a strongly contagious respiratory illness, do not expose yourselves in crowds, or in places where you have to share several hours with your brothers and sisters, for example in airplanes and collective means of transport. Wait patiently for the said disease to abate.
People of God, be obedient and be patient, so that with due discernment and given My calls, you are cautious in undertaking trips that are not a priority.
-St. Michael the Archangel to Luz de Maria – Aug. 18, 2019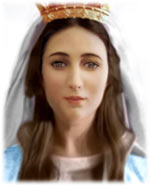 It is necessary for humanity to cry out to the Most Holy Trinity in order to obtain Divine Mercy and for this pandemic be appeased in the Divine Will, and together with prayer, I invite you to PLACE BLESSED OIL – AND IF YOU HAVE THE OIL OF THE GOOD SAMARITAN, PUT A DROP OF THIS OIL IN THE BLESSED OIL – AND WITH IT MARK THE FRAME OF THE FRONT DOOR OF YOUR HOUSE AND OF THE REAR DOOR, AS WELL AS TO REMAIN IN A STATE OF GRACE, WHICH IS ESSENTIAL AT THIS TIME.
-Blessed Virgin Mary to Luz de Maria – Mar. 15, 2020
The epidemics do not wait. Be carriers of My Mother under the invocation of the Miraculous Medal.
-Our Lord Jesus Christ to Luz de Maria – Jan. 17, 2011
The epidemics do not wait, just as Heaven announced; these will be more devastating.
-Blessed Virgin Mary to Luz de Maria – Sep. 23, 2010
My People, humanity's attention is focused on the armed conflicts; these will take a little longer to recrudesce. In the meantime, the epidemics advance throughout the Earth and become pandemics, and My children do not take this seriously until they will want to stop the epidemics and will fail. Then they will remember that My Mother blessed them with medicine to stop what will take science by surprise.
-Our Lord Jesus Christ to Luz de Maria – Jan. 10, 2016
Today it is My Love that alerts you to remain in Grace, to carry sacramentals, to not forget those "medicines of faith" that I have revealed to you for the unknown illnesses, to bless what you ingest, to prepare yourselves with all that is necessary, to conserve in every home, not only the Sacred Scriptures, but devotional books, to not forget the holy water to sign yourselves with each day, to pray the Holy Rosary as a family and be Love in the likeness of My Son.
-Blessed Virgin Mary to Luz de Maria – Aug. 13, 2009
Beloved, sick and hungry there's little man can do to work, and little he can do to grow in the spirit…
DO NOT TRUST IN YOUR OWN STRENGTH, TRUST IN ME AND IN MY MOTHER. DO NOT BE CONFUSED IN THE FACE OF ANY TRIAL; THANK MY HOME FOR IT.
KNOW ME AND YOU WILL BE COPIES OF MY LOVE AND MY OBEDIENCE TO MY FATHER.
Beloved, the plague continues to spread; humankind will be shocked. Created by man himself, the plague will cause havoc; do not forget what My Mother has indicated..
-Our Lord Jesus Christ to Luz de Maria – Mar. 03, 2015
My People are faithful, fear does not distance them from Me. I will remain beside you, I will not abandon you, you are My treasure.
I bless you.
-Our Lord Jesus Christ to Luz de Maria – Sep. 26, 2013

Header image by tookapic (Pixabay)