Review of some revelations that give insights into the using of protests as a new way of warfare. The recommendations from Heaven to avoid confronting and slaughtering our own brothers. The provocation of the 'power in the shadows' to infuriate people and keep them in a constant state of rage.
With pain I see so many human creatures renouncing My Love to start on a path of licentiousness, which leads them to suffer in the midst of the rebellion, protests and inconstant states of mind in which evil keeps them. Humanity is moving in constant confrontation, in intolerance, in the loss of ethics, in instability and total subversion, increasing evil's power over man.
HAVE YOU FORGOTTEN THAT MY MOTHER ANNOUNCED TO YOU THAT DICTATORSHIPS WOULD PREY ON THE PEOPLES?
Our Lord Jesus Christ to Luz de María - Jul. 05, 2018
(…) [Blessed Virgin Mary] told me that man will increase his level of anger and that therefore protests and acts of vandalism will increase in the world.
Luz de María - Comment to the message dated Sep. 20, 2017
"Civilian" armies, new warfare
My beloved, crises will be anticipated in the countries that will enter into continuous protests until these are uncontrollable. Scarcity is becoming widespread in every aspect for man's survival.
Pay attention My People! Those desiring world domination are supplying arms to the people. I suffer over the young
people who are casually brought to bear arms. I CALL UPON THE YOUTH NOT TO PARTICIPATE IN RIOTS OR PROTESTS, AS BECAUSE OF THE HEAT OF THEM THEY WILL BECOME PARTICIPANTS IN MASSACRES.
YOUNG PEOPLE, FLEE! DO NOT STAIN YOUR HANDS WITH YOUR BROTHERS' BLOOD.
Our Lord Jesus Christ to Luz de María – Jul. 14, 2016
Heaven warned you that you were at war, since this war was presenting itself unlike previous models of other wars throughout History. This Third World War consists of a scale of violence of different forms, within which men will reach unthinkable extremes for human thought. The most powerful nations will use protests and states of global turmoil to seize power with greater force. Millions of My children will be mutilated, persecuted and violated in every aspect, and they will be brought to death.
Blessed Virgin Mary to Luz de María – Jul. 17, 2016
"Social Tension", rage: violence incited through protests
The path of My People is convulsed: Humanity strives to protest, but the background of all disorder, all protest, acts of vandalism and anger is summed up in what is the cause of the true origin of man's actions: internal struggle, the disease of envy and greed. The devil has made use of this to cover up his evil and so that man sees his brothers and sisters as enemies.
Our Lord Jesus Christ to Luz de María – Oct. 06, 2017
ANGER AND NONCONFORMITY ARE INCREASING UNCONTROLLABLY; MAN REBELS AT EVERYTHING, UNTIL THE ALLIES OF EVIL ATTAIN THEIR OBJECTIVE: CREATING CHAOS THROUGHOUT THE EARTH. In the face of instability, the peoples will rise up and that will be when brother will rise up against brother, disavowing blood ties, and BECAUSE OF THIS GRAVE SIN, THE THREE DAYS OF DARKNESS WILL BEFALL THE EARTH.
Blessed Virgin Mary to Luz de María – Aug. 30, 2017
The evil of rebellion has been poured out upon the nations, so that, in the midst of the fury of the protests and upheavals, men would rise up against their own brothers and sisters.
Our Lord Jesus Christ to Luz de María – Apr. 22, 2017
Pray, My children, since man does not respect the wishes of the majority, power at this instant is an important sign, and he who has it does not wish to abandon it. The peoples will rise up in great protests and from protests they will go to great turmoil, and from this they will go to provocations and from provocations to the great war, in which, at a certain moment, My Legions will intervene, before man exterminates this Divine Creation: the Earth.
Our Lord Jesus Christ to Luz de María – Dec. 14, 2016
My beloved People, struggles, uprisings, protests and lack of control are the product of anger, hatred and the lack of values in man because he does not know Me. Every one gives what they have inside at the instant: some give love and others anger, which is not My Will.
Our Lord Jesus Christ to Luz de María – Jan. 04, 2018
WITH WHAT PAIN I SEE YOU BEING LED LIKE SHEEP TO THE SLAUGHTER, WITHOUT DISCERNING BETWEEN GOOD AND THE EVIL THAT HAS CAUSED YOU TO BE AUTOMATA THAT FOLLOW WHAT REEKS OF WRONGDOING, REBELLION, PROTEST!
Blessed Virgin Mary to Luz de María – Jun. 03, 2018
The manipulation of the power in the shadows
The impostor's domination throughout the world is agreed to by those who at this instant hold power over Humanity to declare war, famine for countries that do not generate income for them, and they send diseases to nations that do not suit them. They who decide the destiny of Humanity, decree revolutions, revolts, uprisings, the fall of governments, the fall of the economy … AND THIS THEY WILL KEEP UP UNTIL MY CHILDREN, FACING PURIFICATION, RECOGNIZE ME AS KING OF KINGS AND LORD OF LORDS. (Cf. Rev. 19:16)
Our Lord Jesus Christ to Luz de María – May 29, 2017
Beloved children of My Immaculate Heart:
I SEE MY CHILDREN ON EARTH DEFIANT, WITHOUT RESPECT OR MORALITY, IN AGITATION FACING THE INDICATIONS OF ECONOMIC LOSS, CONFRONTING ONE ANOTHER REMORSELESSLY.
What generation is this? One which has been trained to react in this way facing that with which it disagrees.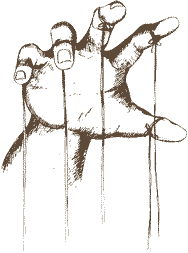 Heaven has warned you about the elite which manipulates societies, governments, humanitarian aid organizations, organizations that include the world's governments, organizations of global health, food, organizations for religious instruction for children and young people…
Children, this elite has for decades been programming this generation to react in this chaotic way at this precise moment. Everything has been manipulated beforehand, so that in the midst of the turmoil and protests, My children should attack what is Sacred, repudiating My Son and allying themselves with the devil.
Beloved children of My Immaculate Heart, this elite composed of the powerful families and companies of the world call themselves the BILDERBERG CLUB. SOME OF ITS MEMBERS BELONG TO THE MASONIC AND ILLUMINATI INSTITUTION AND ARE WITHIN THE CHURCH OF MY SON IN HIGH POSITIONS AND IN PARISHES.
Blessed Virgin Mary to Luz de María – Jun. 15, 2016
Children, the principle of truth that moves superpowers to promote war is ignored by you. Every act of man has an implicit purpose that benefits him. Not only economic, political and geographical interests -inconceivable to those who do not know politics-, are behind revolutions, vandalism and protests that seem harmless, creating chaos through uncontrolled violence which was programmed TO BRING HUMANITY TO THIS MOMENT IN WHICH IT FINDS ITSELF: JUST ONE STEP AWAY FROM SELF-DESTRUCTION OF THE HUMAN RACE.
Blessed Virgin Mary to Luz de María – Oct. 04, 2015
Lack of Social Peace – Signs of the times
Social revolts will cause constant suffering in the world's societies; man has risen up against his brothers in a pitched battle.
Humanity is living out the consequences of the red horse of the Apocalypse, which came to take away the peace of the Earth and, together with those who ride it, takes away peace and leads you to kill each other (cf. Rev. 6,3-4).
Our Lord Jesus Christ to Luz de María – Apr. 20, 2018
My children, the nations will be involved in great revolts and endless revolutions, men will not know where to go and then they will be more confused, the strength of men will emerge who, with modern and encouraging ideas within the mundane, will want to fill the inner emptiness with the extreme modernisms that are not Divine Will and My children will go from country to country in search for what they will not find.
Blessed Virgin Mary to Luz de María – Jan. 14, 2019
Civil revolts will be more continuous, with no apparent reasons. You will not feel security where you are because man has less and wants more.
Pray, My children, pray, threats between nations will become what Humanity has feared.
Our Lord Jesus Christ to Luz de María – Oct. 27, 2017
My children, HUMANITY IS IN CHAOS: Revolutions, riots, persecutions, killings, abortions… And this makes anger take possession of the minds of men, and still men deny it… Is it not true that in My Word it is written that at the end times all this shall happen as you deny it now, as you deny it at this instant out of fear or Ignorance?
Our Lord Jesus Christ to Luz de María – Sep. 23, 2015