"The survival of the fittest": this is how Luz de Maria describes what she saw through the world in the midst of the tribulations. The vision appears to allude to two distinct tsunamis, one product of an earthquake and the other of a volcano emerging from the depths of the sea.
Here is the full text of the account:
VISION AND REFLECTION
By Luz de María
Sep. 13, 2020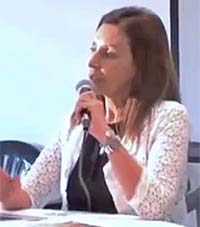 Brothers and sisters:
I share with you the details that Saint Michael the Archangel emphasized to me during this vision.
At the end of the Message of September 13th, Saint Michael placed in front of my eyes the earth globe, different from how we can see it now through satellites, because the colors were different.
Saint Michael tells me:
Child, do you see that the Earth does not have the greenery you are used to and the seas have usurped land?
I, amazed, nodded my head in affirmation.
He then tells me:
Humanity has not accepted that this disease that afflicts them strongly is the product of the greed with which some scientists and those who rule the world have used to cause evil and take humanity hostage. At this moment I have to repeat what Our King and Lord Jesus Christ and Our Queen and Mother have repeated to you about the misuse of technology: this virus is proof of this.
The evil very cleverly studied how to bring the People of God closer to technology, since it will be through it that the antichrist will make himself known to all humanity. It is the reality to which children, teenagers and adults have been led to with great ease and without making it seem abnormal.
What Our Mother had mentioned so many years ago is now fulfilled: HOMES WILL BECOME MASSIVE CONCENTRATION CAMPS… and that is what humanity in general is experiencing.
This new way of virtual teaching that has arisen, has been with the acceptance and submission of humanity, this produces alteration, violence everywhere and humanity is seeing it as something normal, they almost say that violence is something necessary at this time.
That's the danger: that death faces man every moment by hands of the fellow men, without this leading to serious consequences.
Then he showed me how the human creature looks empty, with little or no Faith, I also looked at part of humanity with a fullness of light and Saint Michael tells me:
It is the spiritual fullness of those who will be part of the Holy Remnant.
I was able to see people forming long lines to pick up basic food supplies, and in divided families this is not easy, but on the contrary, I saw how the elderly in particular are abandoned in the long lines and despised by their families, since they are not considered necessary.
What I could really observe is the survival of the fittest.
And the Word of Sacred Scripture is fulfilled: Matthew 24, 8-15.
Saint Michael introduced me to hundreds of human creatures who were giving up in the Faith, because the Revelations were not being fulfilled "Now!". Then he showed me those same creatures in the Tribulation groaning and pleading for Divine Help.
I saw a great earthquake, and I saw the sea entering the land and the foolish were not going to the high places, drowning to death.
I saw a large number of people drowned by cause of a volcano that emerges from the seabed and creates a tsunami.
The sky turned grayish and men ran from one place to the other in terror and fright, but the creatures of Faith knelt down and stretched out their arms worshiping God.
They were saying:
OH TIME THAT WAS EXPECTED, GIVE US FAITH, GOD OF HEAVENS AND EARTH, GIVE US FAITH TO REMAIN UNTIL THE END!
A few days later, the news reports that a super volcano erupted and has caused a greenhouse-like climate…
Flights and all means of transport between countries come to a stop…
The temples became full of people asking for confession…
And Saint Michael tells me:
Today they request clemency, yesterday they were blaspheming God.
Man continues being haughty before God, this generation lives faced to two paths: that of grace and that of slavery to sin.
There will be suffering in a great number of countries, the inhabitants will rise up against their rulers, who dominate humanity, and are not the presidents, but the great Freemasons who prepare the unique government, those who shape the chaos in the countries…
The war is announced and started.
And Saint Michael exclaims:
Human creatures, do not be obstinate, convert! They hold you captive to keep you away from the Most Holy Trinity and man without God gives himself to the devil.
Do not continue living off the human ego, it keeps you blind, it does not allow you to look and it leads you to live in pride, trampling your fellow men.
Saint Michael tells me:
Blessed are the poor in spirit, for theirs is the kingdom of heaven.
Blessed are those who mourn, for they will be comforted.
Blessed are the humble, for they will inherit the earth.
Blessed are those who hunger and thirst for righteousness, for they will be satisfied.
Blessed are the merciful, for they will receive mercy.
Blessed are the pure in heart, for they will see God.
Blessed are those who seek peace, for they will be called children of God.
Blessed are those who have been persecuted for the sake of righteousness, for theirs is the kingdom of Heaven.
Blessed will you be when they insult and persecute you, and falsely say all kinds of evil against you, because of Me. Rejoice and be glad, for your reward in Heaven is great, for thus they persecuted the prophets who were before you (cf. Mt. 5, 12).
Saint Michael walks away and requests the perseverance of the People of God.
-Luz de Maria – Sep. 13, 2020
Online Flood Simulators
These are a couple of websites that allow you to get a visual hint of how could the world look like if the water level of the seas raised. Try them and find out if you are living in a flood-safe zone.
http://flood.firetree.net/?ll=15.9107,14.9638&zoom=2&m=130&type=hybrid