English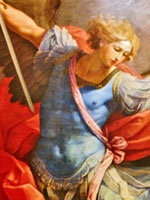 Beloved People of God:
RECEIVE THE PEACE, LOVE, AND MERCY THAT COME FROM THE SACROSANCT TRINITY.
In unity, as the People of God who walks without despair or losing Faith, ADVANCE TOWARDS ETERNAL HAPPINESS.
At this time more than others, you must make determinations that enlighten you and open the spiritual path for you before it is too late and custom blinds you completely.
The People of Our King and Lord Jesus Christ are stubborn, hypocritical, presumptuous, arrogant and disobedient, that is why they suffer. We warn you by Divine Mercy about all that leads you to lose Eternal Life and you do not take it for yourself, but as for your brothers.
I COME WITH MY SWORD UP HIGH, AS A SIGN THAT THE PURIFICATION OF HUMANITY IS ACCELERATING AND IS BLOODY LIKE THE SIN OF MAN.
You have to empty the human ego of everything that keeps you attached to foolishness and pride, you have to apply the correction to yourselves and live, work and act within brotherhood and Divine Love. You read these Words, which by Divine Will I direct to you, and you believe that they are for the other brothers, I must say that they are for each of those who read them, they are for you, not for another, egomaniacs of your own god!: I am.
This is why they do not share the pain of others, they do not suffer with the one who suffers, they do not rejoice with the one who rejoices, they live in constant battle with their fellow men.
No! Children of God, acting in this way keeps you from working and acting in the likeness of Our King and Lord Jesus Christ and drags you with the current of the world that has lost values, especially spiritual ones, and hence, it is the chaos in which you live.
CHANGE!, NOT TOMORROW, BUT TODAY! at this very moment so that you would not wander alone when you will need of your brothers. All will need the help of the brothers and sisters facing the Purification that comes.
Meditate:
THE EARTH WILL NOT BE PURIFIED BY WATER, BUT BY FIRE, THAT WHICH EMANATES FROM TECHNOLOGY CREATED TO DESTROY WITHOUT COMPASSION.
In this devastated, agitated and overwhelmed world, man directs his gaze and his misguided forces against all that represents the Divine; Therefore, People of God, look to your inner self and transform the constant reproaches that you utter against God into a THANK YOU, FATHER! because you polish me with Your Love.
WHAT IS HAPPENING ON EARTH AT THIS MOMENT?
YOU MUST LEARN TO BE CHARITY, INNER PEACE, LOVE, FAITH AND HOPE SO THAT YOU WOULD RECEIVE THE SAME.
Get ready! It is mostly bearable to man all that happens as long as he remains in God, not so to those who remain in their I am, these creatures are easily saturated, they are not love and by their will they walk alone.
You People of God, act now on yourselves, make the path lighter, so that it is not heavier, but on the contrary, a path blessed by Faith and Love of God.
People of God:
The Church of Our King and Lord Jesus Christ exhales lament, do not get lost, do not fear, be consistent and be assured of the protection of the Queen and Mother who is with you to guide you if you allow Her.
Volcanoes will be a lament for the children of God, do not be careless, stay alert.
The earth trembles with force, the creatures will run to one end and to the other facing the power of nature.
CREATURES OF GOD!
BE CREATURES OF FAITH, YOU MUST NOT SHAPE YURSELVES BASED ON WHAT YOU WANT AS HUMAN CREATURES, BUT ON THE DIVINE WILL.
Beloved People of God:
This is the time for you to change, to convert and prepare for what will be stronger, on it depends how you will continue living, in a continuous lament or in the Divine Will that gives you Peace. They do not want to be renewed, the mud of the "ego" is more pleasant than conversion based on sacrifice.
You must continue praying with the soul, powers and senses, uniting to pray, without dispersion. Prayers are necessary for you as humanity.
KEEP IN MIND THAT THE SACRED SCRIPTURE IS STRENGTH FOR THE CHILDREN OF GOD, THE EUCHARIST IS FOOD FOR THE CHILDREN OF GOD, FEED YOURSELVES BEFORE THE MYSTERY OF INIQUITY BECOMES PRESENT. (Cf. II Thess 2,7)
People of God:
The war distills down through several slopes while looking at the center of Christendom as a target for the sheep to be intimidated.
FAITH, FAITH, FAITH!
You hear the Etna roar, the titans awaken and humanity being prey to itself despairs.
HOW MUCH THEY WILL MISS THE TIMES LIVED!
HOW MUCH THEY WILL REGRET SO MUCH IGNORANCE IN WHICH THEY LIVED!
Wake up People of God, wake up, that spiritual hunger rides on the Earth, physical hunger rides (Cf. Rev 6,2-8) announcing to humanity what is to come.
FAITH KEEPS THE HUMAN CREATURE IMMOVABLE.
DO YOU HAVE FAITH?
I bless you.
WHO IS LIKE GOD?
THERE IS NONE LIKE GOD!
St. Michael the Archangel
HAIL MARY MOST PURE, CONCEIVED WITHOUT SIN
HAIL MARY MOST PURE, CONCEIVED WITHOUT SIN
HAIL MARY MOST PURE, CONCEIVED WITHOUT SIN
COMMENTARY BY LUZ DE MARIA
Brothers and sisters:
Our beloved Saint Michael the Archangel, in this call to conversion, gives us a journey through different scenarios in which humanity lives and will live.
As the days go by, so the fulfillment of the Revelations approaches.
Famine comes before a man who rejects God and blames Him for everything that happens. Could it be that they will rise up against the People of God and persecute them by blaming them for what happened?
Saint Michael the Archangel allowed me to look at a group of people, all men deciding the next step to take regarding the fate of humanity. A humanity battered in its health is more vulnerable to be taken into social despair and chaos.
We are warned, let us not fall into despair.
LET'S FEED ON TRINITARIAN LOVE AND ON OUR MOST HOLY MOTHER FOR EACH ONE OF US.
Amen.
-St. Michael the Archangel to Luz de Maria – Sep. 13, 2020

Español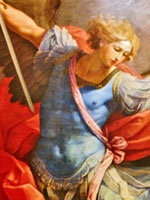 Amado Pueblo de Dios:
RECIBAN LA PAZ, EL AMOR Y LA MISERICORDIA PROCEDENTES DE LA TRINIDAD SACROSANTA.
En unidad, como Pueblo de Dios que camina sin desesperar ni perder la Fe, AVANCEN HACIA LA ETERNA FELICIDAD.
En este momento más que en otros, deben tomar determinaciones que les alumbren y les abran el camino espiritual antes de que sea tarde y la costumbre les ciegue totalmente.

El Pueblo de Nuestro Rey y Señor Jesucristo es testarudo, hipócrita, presumido, soberbio y desobediente, por ello es que padece. Les advertimos por Misericordia Divina sobre cuanto los lleva a perder la Vida Eterna y no lo toman para sí mismos, sino para los hermanos.
VENGO CON MI ESPADA EN ALTO, EN SEÑAL DE QUE LA PURIFICACIÓN DE LA HUMANIDAD SE ACELERA Y ES CRUENTA COMO EL MISMO PECADO DEL HOMBRE.
Tienen que vaciar el ego humano de cuanto les mantiene apegados a la necedad y la soberbia, tienen que aplicarse a sí mismos la corrección y vivir, obrar y actuar dentro de la fraternidad y el Amor Divino. Dan lectura a estas Palabras, que por Voluntad Divina les dirijo, y creen que son para otros hermanos, he de decir que son para cada uno de los que las leen, son para ti, no para otro, ¡ególatras de su propio dios! yo soy.
Debido a ello no comparten el dolor ajeno, no sufren con el que sufre, no se alegran con el que se alegra, viven en una constante batalla con sus semejantes.
¡No! hijos de Dios, el actuar de esa forma les aleja de actuar y obrar a la manera de Nuestro Rey y Señor Jesucristo y les arrastra con la corriente del mundo que ha perdido valores, sobre todo los espirituales, y de ahí, es el caos en que se encuentran.
¡CAMBIEN!, NO MAÑANA, ¡SINO HOY! en este preciso momento para que no vaguen solitarios cuando necesiten de sus hermanos. Todos necesitarán del auxilio de los hermanos ante la Purificación que llega.
Mediten:
LA TIERRA NO SERÁ PURIFICADA CON EL AGUA, SINO CON EL FUEGO, ESE QUE EMANA DE LA TECNOLOGÍA CREADA PARA DESTRUIR SIN COMPASIÓN.
En este mundo devastado, agitado y agobiado, el hombre dirige su mirada y sus fuerzas mal encauzadas contra lo que representa lo Divino; por ello, Pueblo de Dios, mírense en el interior y transformen los constantes reproches que profieren contra Dios en un ¡GRACIAS, PADRE! porque me pules con Tu Amor.
¿QUÉ SUCEDE EN LA TIERRA EN ESTE MOMENTO?
DEBEN APRENDER A SER CARIDAD, PAZ INTERIOR, AMOR, FE Y ESPERANZA PARA QUE RECIBAN LO MISMO.
¡Prepárense!, al hombre le es mayormente llevadero cuanto acontece si se mantiene en Dios, no así quien se mantiene en su yo soy, estas criaturas se saturan con facilidad, no son amor y por su voluntad caminan solas.
Ustedes Pueblo de Dios, actúen ya en ustedes mismos, alivianen el camino, para que este no sea más pesado, sino al contrario, un camino bendecido por la Fe y el Amor a Dios.
Pueblo de Dios:
La Iglesia de Nuestro Rey y Señor Jesucristo exhala el lamento, no se pierdan, no teman, sean coherentes y tengan la seguridad de la protección de la Reina y Madre que se encuentra con ustedes para guiarles si se lo permiten.
Volcanes serán lamento para los hijos de Dios, no se descuiden, manténganse en alerta.
La tierra se estremece con fuerza, las criaturas correrán hacia un extremo y hacia otro ante la fuerza de la naturaleza.
¡CRIATURAS DE DIOS!,
SEAN CRIATURAS DE FE, NO DEBEN FORJARSE SOBRE LO QUE DESEAN COMO CRIATURAS HUMANAS, SINO SOBRE LA VOLUNTAD DIVINA.
Amado Pueblo de Dios:
Este es el momento para que cambien, se conviertan y se preparen para lo que será más fuerte, de ello depende cómo continuarán viviendo, en el lamento continuo o en la Voluntad Divina que les da Paz. No desean ser renovados, es más placentero el fango del "ego" que la conversión basada en el sacrificio.
Deben continuar orando con el alma, potencias y sentidos, unificándose para orar, sin dispersiones. Las oraciones son necesarias para ustedes como humanidad.
TENGAN PRESENTE QUE LA SAGRADA ESCRITURA ES FUERZA PARA LOS HIJOS DE DIOS, LA EUCARISTÍA ES ALIMENTO PARA LOS HIJOS DE DIOS, ALIMÉNTENSE ANTES DE QUE SE HAGA PRESENTE EL MISTERIO DE LA INIQUIDAD. (Cf. II Tes 2,7)
Pueblo de Dios:
La guerra destila por varias vertientes sin dejar de mirar el centro de la cristiandad como objetivo para que las ovejas sean amedrentadas.
¡FE, FE, FE!
Escuchan al Etna rugir, despiertan los colosos y la humanidad siendo presa de sí misma desespera.
¡CÓMO AÑORARÁN LOS TIEMPOS VIVIDOS!
¡CÓMO LAMENTARÁN TANTA IGNORANCIA EN LA QUE VIVIERON!
Despierta Pueblo de Dios, despierta, que el hambre espiritual cabalga sobre la Tierra, el hambre física cabalga (Cf. Apoc 6,2-8) anunciando a la humanidad lo venidero.
LA FE MANTIENE A LA CRIATURA HUMANA INAMOVIBLE.
¿POSEEN FE?
Les bendigo.
¿QUIÉN ES COMO DIOS?
¡NADIE COMO DIOS!
San Miguel Arcángel
AVE MARÍA PURÍSIMA, SIN PECADO CONCEBIDA
AVE MARÍA PURÍSIMA, SIN PECADO CONCEBIDA
AVE MARÍA PURÍSIMA, SIN PECADO CONCEBIDA
COMENTARIO DE LUZ DE MARÍA
Hermanos:
Nuestro amado San Miguel Arcángel, en este llamado a la conversión, nos da un recorrido por diferentes escenarios en los que vive y vivirá la humanidad.
En cuanto avanza el transcurrir de los días, así se acerca el cumplimiento de las Revelaciones.
La hambruna llega ante un hombre que reniega de Dios y le culpa de cuanto acontece. ¿Será que se levantarán contra el Pueblo de Dios y le perseguirán al señalarle culpable de lo acaecido?
San Miguel Arcángel me permitió mirar a un grupo de personas, todos hombres decidiendo el próximo paso a dar en cuanto al destino de la humanidad. Una humanidad golpeada en la salud es más vulnerable para llevarle a la desesperación social y al caos.
Somos advertidos, no caigamos en la desesperación.
ALIMENTÉMONOS DEL AMOR TRINITARIO Y DE NUESTRA MADRE SANTISIMA POR CADA UNO DE NOSOTROS.
Amén.
-San Miguel Arcángel a Luz de María – 13.SEP.2020