Español
Sean cautos ante aquellos que les llaman a mirar este virus como algo más, cuando saben que ha salido de manos humanas con el fin de reducir la población mundial.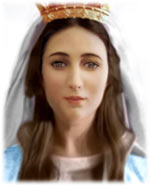 Amadísimos hijos de Mi Corazón Inmaculado:
Les bendigo, les acojo en Mi Corazón para que en Él todos se mantengan seguros.
Amados hijos, el mantenerse seguros no es librarse de lo venidero, sino enfrentarlo en paz, sin desesperarse, con Fe de que siendo hijos cumplidores de la Ley Divina y entregándose a Mi Hijo, siendo Amor para con sus hermanos y viviendo la Esperanza y la Caridad, perdonando de corazón y manteniéndose en oración, no solo de palabra, sino practicando la oración y amparando al hermano, SE MANTIENEN OBEDIENTES A LOS PEDIDOS DIVINOS Y LA LUZ DIVINA LES ALUMBRA EL CAMINO.
Amados hijos, en este instante deben vivir a plenitud la Comunión Espiritual. A plenitud, con toda el alma, potencias y sentidos, con el corazón rebosante de amor por Mi Hijo para que continúe siendo ADORADO POR SU PUEBLO.
LA FUERZA DEL PUEBLO DE DIOS ES INFINITA CUANDO ESTE PUEBLO VIVE EN ESPÍRITU Y VERDAD LA INTIMIDAD CON MI HIJO, CUANDO EL PUEBLO DE MI HIJO LLEVA CONSIGO EL TESORO DEL CIELO, QUE LA POLILLA NO ROE NI LOS LADRONES PUEDEN ROBAR (Mt. 6,19-21), ESE PUEBLO CAMINA EN ARMONÍA, EN FE Y AMOR, PORQUE LES PUEDEN MATAR EL CUERPO, PERO EL ALMA NO PUEDEN MATARLA.
AMADOS, TEMAN AL QUE LES LLEVE A LA PERDICIÓN DEL ALMA.
No pierdan la Fe, no digan: "para qué vivir ante lo venidero", al contrario, ¡criaturas de poca Fe!, dispóngase a merecer la Vida Eterna, dispóngase a vivir cuanto sea la Voluntad Divina en unidad y compasión para que sean merecedores de la Misericordia Divina.
Amados hijos de Mi Corazón Inmaculado, ¡cuántos leen estas Revelaciones y no atienden, no miran, no ven, sus oídos se encuentran tapados, porque el corazón lo mantienen endurecido!
Este instante es para que sean cautos, para que en ustedes desborde el Amor Divino ante tanto dolor que vive la humanidad. Sean cautos ante aquellos que les llaman a mirar este virus como algo más, cuando saben que ha salido de manos humanas con el fin de reducir la población mundial.
ENVÍEN SUS ORACIONES HACIA LA HUMANIDAD, ORACIONES NACIDAS DE UN CORAZÓN LIMPIO, ENVÍENLAS HACIA TODOS SUS HERMANOS PARA QUE REFLEXIONEN EN ESTA SEMANA MAYOR, EN DONDE CONMEMORAN LA PASIÓN, MUERTE Y RESURRECCIÓN DE MI HIJO.
¡Miro tantas criaturas humanas que sin ser conscientes, son Cirineos de la Cruz de Mi Hijo (Cfr. Mt 27,32), esos Cirineos de sus hermanos que padecen y les atienden con amor!
ESA ES LA CRUZ DE MI HIJO, ESO ENCUENTRAN EN LA CRUZ DE MI HIJO: "AMOR, DONACIÓN, ESPERANZA, ENTREGA, FE". TODOS LOS QUE SON CIRINEOS DE SUS HERMANOS EN EL MUNDO ENTERO, LES DICEN A USTEDES: LA PASIÓN DE NUESTRO SEÑOR JESUCRISTO SE ENCUENTRA ACTIVA Y PALPITANTE EN CADA UNO DE SUS HIJOS.
Por ello, quienes han deseado acorralar al Pueblo de Mi Hijo, a Mis hijos, lo han llevado a crecer, en humildad, en amor, en piedad, en entrega, en caridad, en la Voluntad Divina y el Pueblo de Mi Hijo se ha agrandado, algunos que no creían, creen, han mirado milagros delante de ellos y han renacido a la Fe.
En la Fe del Pueblo que no desfallece, sino crece y rememora, no solo la Pasión de Mi Hijo, sino Su Resurrección y en esa Resurrección nacen los hijos que han pasado por caminos difíciles y habían olvidado el AMOR, ahora se vuelven hacia Mi Hijo y le dicen: "aquí estoy Señor Jesucristo para servir a mis hermanos, para cumplir Tu Voluntad".
Quienes han tomado al demonio como su dios, se encuentran escondidos y el Pueblo de Mi Hijo, ora y se encuentra en la praxis del Amor Divino, orando unos por otros sin cesar.
Y ES EN LA PRAXIS DEL AMOR HACIA EL HERMANO, EN DONDE EL HERMANO ES OTRO CRISTO, EN DONDE BROTA LO QUE ESTABA OCULTO, LO QUE SE HABÍA OLVIDADO… BROTA EL AMOR HACIA MI HIJO Y LA CRIATURA HUMANA GERMINA HACIA LA VIDA ETERNA.
¡NO TEMAN HIJOS, NO TEMAN!
En medio del dolor nace el AMOR de Mi Hijo en Sus hijos.
POR ELLO, LA TRINIDAD SACROSANTA HA ENVIADO LEGIONES CELESTIALES A SELLAR A SU PUEBLO, ESTA GRACIA DIVINA ES DONADA POCO A POCO POR ALGÚN TIEMPO HASTA QUE YA, PURIFICADO EL PUEBLO FIEL, SEA UNO CON SU SEÑOR Y SU DIOS.
¡NO TEMAN!
¿NO ESTOY YO AQUÍ QUE SOY SU MADRE?
Les bendigo.
Mamá María
AVE MARÍA PURÍSIMA, SIN PECADO CONCEBIDA
AVE MARÍA PURÍSIMA, SIN PECADO CONCEBIDA
AVE MARÍA PURÍSIMA, SIN PECADO CONCEBIDA
COMENTARIO DE LUZ DE MARÍA
Hermanos:
Nuestra Madre se desborda en amor. Ese que es propio de una madre que nos ama.
Como nos dice nuestra Madre, cada uno sea "un cirineo" de su hermano en este instante y Ella que todo lo ve, nos deja claro la entrega en todo el mundo, de aquellos hermanos que sirven a los enfermos.
No es una Celebración como las anteriores, las ofensas hacia la Trinidad Sacrosanta son tantas que no merecemos conmemorar el Amor Divino, pero a la vez, tenemos la gran oportunidad de ser desde donde nos encontremos, una criatura que reflexionando durante este período de aislamiento, se haya decidido a un cambio interior.
Amén.
-Santísima Virgen María a Luz de María – 08.ABR.2020

English
Be cautious of those who call you to see this virus as just another one, when you know that it has come out of human hands with the purpose of reducing the world's population.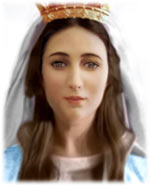 Beloved children of My Immaculate Heart:
I bless you, I receive you in My Heart so that in It everyone remains safe.
Beloved children, staying safe is not getting rid of the forthcoming, but facing it in peace, without despair, with Faith that being children who fulfill the Divine Law and surrender to My Son, being Love towards your brothers and living Hope and Charity, forgiving from the heart and keeping in prayer, not only of word, but practicing prayer and protecting the brother, YOU REMAIN OBEDIENT TO THE DIVINE REQUESTS AND THE DIVINE LIGHT ILLUMINATES THE WAY TO YOU.
Beloved children, at this instant you must live the Spiritual Communion to the fullest. Fully, with all the soul, powers and senses, with the heart overflowing with love for My Son so that He remains being WORSHIPED BY HIS PEOPLE.
THE STRENGTH OF THE PEOPLE OF GOD IS INFINITE WHEN THIS PEOPLE LIVES IN SPIRIT AND TRUTH THE INTIMACY WITH MY SON, WHEN THE PEOPLE OF MY SON CARRIES WITH THEM THE TREASURE OF HEAVEN, WHICH THE MOTH DOES NOT DESTROY AND THE THIEVES CANNOT STEAL (Mt. 6, 19-21), THAT PEOPLE WALKS IN HARMONY, IN FAITH AND LOVE, BECAUSE THEIR BODIES MAY BE KILLED, BUT THEY CANNOT KILL THEIR SOULS.
BELOVED, FEAR THE ONE WHO LEADS YOU TO SOUL PERDITION.
Do not lose the Faith, do not say: "what shall we live for facing the forthcoming", on the contrary, creatures of little Faith!, Dispose yourselves to deserve Eternal Life, dispose yourselves to live through whatever the Divine Will may be, in unity and compassion so that you would be worthy of Divine Mercy.
Beloved children of My Immaculate Heart, how many read these Revelations and do not heed, do not observe, do not see, their ears are covered, because the heart is kept hardened!
This instant is for you to be cautious, so that in you the Divine Love overflows before so much pain in which humanity lives. Be cautious of those who call you to see this virus as just another one, when you know that it has come out of human hands with the purpose of reducing the world's population.
PLEASE SEND YOUR PRAYERS TOWARD HUMANITY, PRAYERS BORN FROM A CLEAN HEART, SEND THEM TO ALL YOUR BROTHERS AND SISTERS FOR THEM TO REFLECT ON THIS GREATER WEEK, WHERE THE PASSION, DEATH AND RESURRECTION OF MY SON IS COMMEMORATED.
I see so many human creatures that without being aware, they are Cyrenean of the Cross of My Son (Cfr. Mt 27,32), those Cyreneans of their brothers who suffer and care for them with love!
THAT IS THE CROSS OF MY SON, THAT IS FOUND ON THE CROSS OF MY SON: "LOVE, DONATION, HOPE, DELIVERY, FAITH". ALL THOSE WHO ARE CYRENEANS OF THEIR BROTHERS AND SISTERS IN THE WHOLE WORLD, SAY TO YOU: THE PASSION OF OUR LORD JESUS CHRIST IS ACTIVE AND PALPITATING IN EACH OF HIS CHILDREN.
For this reason, those who have wished to corner the People of My Son, My children, have led them to grow, in humility, in love, in piety, in dedication, in charity, in the Divine Will and the People of My Son has enlarged, some who did not believe, believe, they have seen miracles before them and have been reborn to the Faith.
In the Faith of the People that does not falter, but grows and remembers, not only the Passion of My Son, but His Resurrection and in that Resurrection the children are born who have gone through difficult roads and had forgotten LOVE, now they turn to My Son and they say to Him: "Here I am, Lord Jesus Christ, to serve my brothers, to fulfill Your Will."
Those who have taken the devil as their god are in hiding and My Son's People pray and find themselves in the praxis of Divine Love, praying for each other incessantly.
AND IT IS IN THE PRAXIS OF LOVE TOWARDS THE BROTHER, WHERE THE BROTHER IS ANOTHER CHRIST, WHERE ARISES WHAT WAS HIDDEN, WHAT WAS FORGOTTEN… THE LOVE TOWARDS MY SON SPROUTS AND THE HUMAN CREATURE GERMINATES TOWARDS ETERNAL LIFE.
DO NOT FEAR CHILDREN, DO NOT FEAR!
In the midst of pain, the LOVE of My Son is born in His children.
THEREFORE, THE MOST HOLY TRINITY HAS SENT HEAVENLY LEGIONS TO SEAL HIS PEOPLE, THIS DIVINE GRACE IS DONATED LITTLE BY LITTLE FOR A FEW TIME UNTIL THE FAITHFUL PEOPLE, ALREADY PURIFIED, WOULD BE ONE WITH HIS LORD AND HIS GOD.
DO NOT FEAR!
AM I NOT HERE I THAT AM YOUR MOTHER?
I bless you.
Mother Mary
HAIL MARY MOST PURE, CONCEIVED WITHOUT SIN
HAIL MARY MOST PURE, CONCEIVED WITHOUT SIN
HAIL MARY MOST PURE, CONCEIVED WITHOUT SIN
LUZ DE MARIA'S COMMENTARY
Brothers and sisters:
Our Mother overflows in love. That which is typical of a mother who loves us.
As our Mother tells us, each one be "a cyrenean" of his brother at this instant and She who sees everything, makes it clear to us the dedication throughout the world, of those brothers who serve the sick.
It is not a Celebration like the previous ones, the offenses towards the Most Holy Trinity are so many that we do not deserve to commemorate Divine Love, but at the same time, we have the great opportunity to be from where we are, a creature that reflecting during this period of isolation, has decided on an internal change.
Amen.
-Blessed Virgin Mary to Luz de Maria – Apr. 08, 2020