Español
La fuerza de la masonería en el mundo está haciéndose sentir y unido a poderosos de la Tierra, se encuentran tramando continuar eliminando más población mundial, con la finalidad de que el Anticristo encuentre el camino más llano.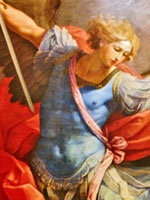 Amado Pueblo de Dios:
COMO ENVIADO DE LA TRINIDAD SACROSANTA Y DE NUESTRA REINA DE CIELOS Y TIERRA, DEBO MENCIONARLES QUE, ANTE TODO, LA OBEDIENCIA ES LA QUE LLEVA HACIA EL CAMINO CORRECTO. (Cfr. Jn 14, 23).
Es necesaria la humildad y el deseo del bien hacia los hermanos para que siendo criaturas emanadoras de bien, el Amor Divino se esparza en cada hijo de Dios que en este instante se encuentra necesitando oraciones y bendiciones.
LA HUMANIDAD HA SIDO LLEVADA A LOS INSTANTES QUE YA SE HABÍAN ANUNCIADO Y ESTO DEBE LLEVARLES A REFLEXIONAR, MEDITAR Y A HACER UN ALTO EN EL CAMINO EN TOTAL SERIEDAD, RESPONSABILIDAD Y TOMAR LA DECISIÓN DE LA SALVACIÓN DEL ALMA.
Lo que viven es serio, aunque no es un virus como otros que llegarán con mayor fuerza, sí es un virus muy bien pensado para contagiar al mayor número de criaturas humanas. Por ende, deben ser previsivos y tomar las medidas necesarias.
La humanidad ha recibido medicamentos naturales que les ayudan a controlar estas enfermedades, pero olvidan pronto lo que el Cielo les lega.
HIJOS DE DIOS, CUERPO MÍSTICO DE CRISTO REY Y SEÑOR, TIENEN QUE CLAMAR POR DECISIÓN PERSONAL Y COMUNITARIA, YA QUE, ANTE LA ORACIÓN, TODO ES ALEJADO Y VENCIDO, PERO LA ORACIÓN TIENE QUE LLEVAR EL CONDIMENTO DE LA FE. SIN FE NADA ES POSIBLE.
La fuerza de la masonería en el mundo está haciéndose sentir y unido a poderosos de la Tierra, se encuentran tramando continuar eliminando más población mundial, con la finalidad de que el Anticristo encuentre el camino más llano.
Otro medio de presión que ejercerá la masonería en la Tierra es la escasez de alimentos y ante esto, el hombre sí se descontrola, y saca de él su instinto más salvaje. La estrategia masónica ha sido planificada para dominar la humanidad mediante el temor.
Pueblo de Dios, esta peste es sumamente contagiosa, por lo que no deben exponerse, pero esta lección tiene que ser MIRADA POR TODOS CON LOS OJOS DE LA FE, para que miren el poder de esta élite que va a imponer un gobierno único, una religión única, una moneda única, una educación única y exterminar a las tres cuartas partes de la población mundial, para que el Anticristo sea acogido con prontitud.
Un cristiano débil en su Fe, débil en sus creencias, débil en sus iniciativas, un cristiano esclavizado a una falsa religiosidad de domingo; es lo que en su mayoría es el Pueblo de Dios. HAN SUPRIMIDO EL SACRIFICIO EUCARÍSTICO Y ESTO ES UNA CLARA SEÑAL DEL DOMINIO MASÓNICO SOBRE LA IGLESIA DE NUESTRO REY Y SEÑOR JESUCRISTO, HAN DADO EL PAN Y RECIBEN PIEDRAS.
Necesitan clamar, orar a tiempo y destiempo (Cfr. I Tes 5,16-18; Ef. 6,18; Dan 6,18), con Fe, con Fe para que las oraciones sean escuchadas y la peste cese, necesitan hacer comuniones espirituales con Fe, respeto y amor. ¡NECESITAN CONTRARRESTAR EL MAL CON EL PODER DE DIOS SOBRE SU PUEBLO!
LA MASONERÍA SE ENCUENTRA SOBRE LA HUMANIDAD, ANTE EL TIEMPO QUE VIVEN, TIEMPO DE DOMINIO, DE EBULLICIÓN, TIEMPO DE CONTRADICCIÓN, DE VANDALISMOS, DE VENGANZA, Y DEBEN AMPARARSE EN LA TRINIDAD SACROSANTA Y EN NUESTRA REINA Y MADRE DE CIELOS Y TIERRA, Y EN NOSOTROS SUS CUSTODIOS.
¡ENMIENDEN EL CAMINO!
¡No se resistan a la conversión! (Cfr. Mc 1,14). No esperen al Anticristo como un personaje de salvación, porque les ofrecerá hasta la Vida Eterna y son demasiados los que correrán hacia él y se perderán.
Yo les anuncio para que no se encuentren desprevenidos. El Amor Divino es infinito e incomparable, pero necesitan definirse, necesitan ser a la Manera Divina y no a la mundana, NECESITAN SER OBEDIENTES A LOS LLAMADOS DIVINOS PARA QUE DOBLEGUEN LAS MALAS COSTUMBRES CON LAS QUE HAN CAMINADO Y POR ELLO NO SE ENCUENTRAN EN EL CAMINO DE LA SANTIDAD.
La humanidad se debate ante sus propios errores, ante sus malas decisiones, ante su propio libertinaje y el resultado es catastrófico.
TODO SE HA ADELANTADO, LA PROXIMIDAD DEL ENCUENTRO DEL HOMBRE CON EVENTOS MAYORES ES ¡YA!, POR ESTO LES LLAMO A LA FE, A LA FE INMOVIBLE, AL ARREPENTIMIENTO, A SER VALIENTES COMO HIJOS DE DIOS, A TOMAR PREVISIONES, PERO A NO DESFALLECER, TIENEN QUE MANTENER LA FE ARDIENDO, DE LO CONTRARIO, LAS TEMPESTADES LES ARROLLARÁN.
Vivan en el pleno mediodía, en donde en el cenit el Sol Divino resplandece y alumbra a todos, calienta a todos, en donde la oscuridad no existe, solo hay Luz y la Reina y Madre de Cielos y Tierra, es coronada por cada uno de ustedes, sus hijos, que cumplen la Voluntad Divina. SIN OLVIDAR QUE "LA MUJER VESTIDA DE SOL CON LA LUNA BAJO SUS PIES" (Cfr. Apoc 12,1), ES LA MADRE DE LA HUMANIDAD.
MANTENGAN MÁS CERCA DE USTEDES A CRISTO REY, SIN OLVIDAR QUE LA COMUNIÓN SE PROLONGA Y EN USTEDES SE PROLONGA EN CADA OBRA Y EN CADA ACTO.
En la unidad a la Voluntad Divina.
¿QUIÉN ES COMO DIOS?
¡NADIE COMO DIOS!
San Miguel Arcángel
AVE MARÍA PURÍSIMA, SIN PECADO CONCEBIDA
AVE MARÍA PURÍSIMA, SIN PECADO CONCEBIDA
AVE MARÍA PURÍSIMA, SIN PECADO CONCEBIDA
COMENTARIO DE LUZ DE MARÍA
Hermanos:
Unida a las Palabras de San Miguel Arcángel, puedo recapitular las visiones que he tenido por gracia de Dios, en donde he mirado momentos parecidos a este. Parecidos, porque son peores, más dolorosos y en los que los hombres lamentarán haber ofendido hasta el hartazgo a Dios y a Nuestra Madre Santísima.
Y es que lamentablemente el hombre es anunciado de cuanto va a llegar, pero no lo cree hasta que lo esté viviendo y, aun así, algunos lo toman con desprecio.
Ha iniciado la demostración del poder del Orden Mundial, la fuerza del Gobierno Único sobre la humanidad, y de ahora en adelante nada será igual que antes, nada.
Necesitamos oración de corazón, de Fe y ese poder no va a detenerse, pero recordemos que un pueblo que ora no es desoído, y con esta Fe, oremos con toda nuestra fuerza para que nos alcance la bendición Divina.
Amén.
-San Miguel Arcángel a Luz de María – 24.MAR.2020

English
The strength of freemasonry in the world is making itself felt and united with the powerful of the Earth, they are plotting to continue eliminating more of the world's population, in order that the Antichrist may find the flattest path.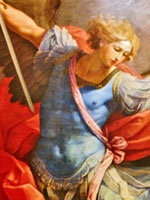 Beloved People of God:
AS ENVOY OF THE MOST HOLY TRINITY AND OF OUR QUEEN OF HEAVEN AND EARTH, I MUST MENTION TO YOU THAT, FIRST OF ALL, OBEDIENCE IS THE ONE THAT TAKES YOU TOWARD THE RIGHT WAY. (Cf. Jn 14, 23).
Humility and desire for good towards the brothers are necessary so that as creatures who emanate good, Divine Love spreads to each child of God who at this instant is in need of prayers and blessings.
HUMANITY HAS BEEN TAKEN TO THE INSTANTS WHICH WERE PREVIOUSLY ANNOUNCED AND THIS SHOULD TAKE YOU TO REFLECT, TO MEDITATE AND TO MAKE A STOP ON THE ROAD WITH TOTAL SERIOUSNESS, RESPONSIBILITY AND MAKE THE DECISION OF SAVING THE SOUL.
What you are living through is serious, although it is not a virus like others that will come with greater strength, it is a very well thought-out virus to infect the largest number of human creatures. Therefore, you must be proactive and take the necessary measures.
Humanity has received natural medicines that help them control these illnesses, but they soon forget what Heaven bequeaths to them.
CHILDREN OF GOD, MYSTICAL BODY OF CHRIST THE KING AND THE LORD, YOU HAVE TO CRY OUT BY PERSONAL AND COMMUNITY DECISION, SINCE, WITH PRAYER, EVERYTHING IS DRIVEN AWAY AND OVERCOME, BUT PRAYER HAS TO BEAR THE CONDIMENT OF FAITH. WITHOUT FAITH NOTHING IS POSSIBLE.
The strength of freemasonry in the world is making itself felt and united with the powerful of the Earth, they are plotting to continue eliminating more of the world's population, in order that the Antichrist may find the flattest path.
Another means of pressure that freemasonry will exert on Earth is the shortage of food, and facing this, man really gets out of control, and takes out of him his wildest instinct. The masonic strategy has been planned to dominate humanity through fear.
People of God, this plague is highly contagious, thereby you must not be exposed, but this lesson has to be SEEN BY EVERYONE WITH THE EYES OF FAITH, so that you look at the power of this elite that is going to impose a unique government, a unique religion, a unique currency, a unique education and exterminate three quarters of the world's population, so that the Antichrist may be received promptly.
A Christian who is weak in his Faith, weak in his beliefs, weak in his initiatives, a Christian enslaved to a false 'sunday religiosity'; This is what for the most part is the People of God. THE EUCHARISTIC SACRIFICE HAS BEEN SUPPRESSED AND THIS IS A CLEAR SIGN OF THE MASONIC DOMAIN OVER THE CHURCH OF OUR KING AND LORD JESUS CHRIST, THE BREAD HAS BEEN GIVEN AND STONES ARE RECEIVED.
You need to cry out, to pray in season and out of season (cf. I Thess 5,16-18; Eph. 6,18; Dan 6,18), with Faith, with Faith so that the prayers are heard and the plague ceases, you need to make spiritual communions with faith, respect and love. YOU NEED TO COUNTER EVIL WITH THE POWER OF GOD OVER HIS PEOPLE!
FREEMASONRY IS OVER HUMANITY, AT THIS TIME IN WHICH YOU LIVE, TIME OF DOMINION, OF TURMOIL, TIME OF CONTRADICTION, OF VANDALISMS, OF REVENGE, AND YOU SHOULD SHELTER IN THE MOST HOLY TRINITY AND IN OUR QUEEN AND MOTHER OF HEAVEN AND EARTH, AND IN WE YOUR CUSTODIANS.
AMEND YOUR PATH!
Do not resist conversion! (Cfr. Mk 1,14). Do not expect the Antichrist to be a character of salvation, for he will offer you even Eternal Life and too many will run towards him and will be lost.
I announce to you so that you are not caught off guard. Divine Love is infinite and incomparable, but you need to define yourselves, you need to be in the Divine Way and not in the worldly way. YOU NEED TO BE OBEDIENT TO THE DIVINE CALLS SO YOU MAY OVERCOME THE BAD HABITS WHICH YOU HAVE BEEN CARRYING AND THIS IS WHY YOU ARE NOT IN THE PATH OF HOLINESS.
Humanity debates before its own mistakes, before its bad decisions, before its own debauchery and the result is catastrophic.
EVERYTHING HAS BEEN ADVANCED, THE PROXIMITY OF THE ENCOUNTER OF MAN WITH MAJOR EVENTS IS NOW! THIS IS WHY I CALL YOU TO FAITH, TO A IMMOVABLE FAITH, TO REPENTANCE, TO BE BRAVE AS CHILDREN OF GOD, TO TAKE PROVISIONS, BUT NOT TO GIVE OUT, YOU HAVE TO KEEP THE FAITH BURNING, OTHERWISE, THE STORMS WILL KNOCK YOU DOWN.
Live in broad midday, where at the zenith the Divine Sun shines and illuminates everyone, warms everyone, where darkness does not exist, there is only Light and the Queen and Mother of Heaven and Earth, is crowned by each one of you, Her children, who fulfill the Divine Will. WITHOUT FORGETTING THAT "THE WOMAN DRESSED IN THE SUN WITH THE MOON UNDER HER FEET" (Cf. Rev. 12.1), IS THE MOTHER OF HUMANITY.
KEEP CHRIST THE KING CLOSER TO YOU, WITHOUT FORGETTING THAT THE COMMUNION IS EXTENDED AND IN YOU IT IS EXTENDED IN EVERY WORK AND IN EVERY ACT.
In unity to the Divine Will.
WHO IS LIKE GOD?
NO ONE IS LIKE GOD!
St. Michael the Archangel
HAIL MARY MOST PURE, CONCEIVED WITHOUT SIN
HAIL MARY MOST PURE, CONCEIVED WITHOUT SIN
HAIL MARY MOST PURE, CONCEIVED WITHOUT SIN
LUZ DE MARIA'S COMMENTARY
Brothers and sisters:
United to the Words of Saint Michael the Archangel, I can recapitulate the visions that I have had by the grace of God, when I have looked at moments similar to this one. Similar, because they are worse, more painful and in which men will regret having offended, in abundance, God and Our Blessed Mother.
And unfortunately, man is announced of how much is going to come, but he does not believe it until he is living it and, even so, some take it with contempt.
The demonstration of power of the World Order has begun, the strength of the Unique Government over humanity, and from now on nothing will be the same as before, nothing.
We need prayer from the heart, from the Faith and that power will not stop, but let us remember that a people that prays is not ignored, and with this Faith, we pray with all our strength so that the Divine blessing reaches us.
Amen.
-St. Michael the Archangel to Luz de Maria – Mar. 24, 2020