Español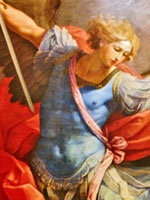 NECESITAN ENTREGARSE AL AMOR DIVINO SIN DETENTES, EN ESTA GRAN ETAPA EN QUE TRANSITA LA HUMANIDAD: "LA ERA DEL TERCER FIAT, LA ERA DEL ESPÍRITU SANTO" (Jn 16,13).
En esta Era, el Demonio se encuentra vagando de un extremo a otro en busca de la menor oportunidad para reinar mediante la división, esa que es la causante de la caída de todo buen propósito del hombre.
Prepárense amado Pueblo de Dios, creciendo en los dones del Santo Espíritu Divino (Is 11,1-4):
EL DON DE LA SABIDURÍA: en el cual la caridad brilla y la criatura entiende que el Plan de Dios se debe enaltecer por sobre todas las cosas y no se debe obstaculizar.
EL DON DEL ENTENDIMIENTO: ilumina a la criatura humana para que penetre con claridad en las verdades reveladas por Dios.
EL DON DEL CONSEJO: con el cual logran discernir las opciones que se presentan ante ustedes, para esto tienen que lograr con este don, el saber escuchar y auxiliar a los hermanos. "No juzgará por las apariencias, ni sentenciará de oídas. Juzgará con justicia a los débiles, y sentenciará con rectitud a los pobres de la tierra" (Is 11, 3-4):
EL DON DE CIENCIA: no es lo que el mundo cree, sino es cuando en el interior de cada uno, Dios le revela a la criatura humana lo que Él sabe de cada uno de ustedes.
EL DON DE LA PIEDAD: este don les permite actuar con sus hermanos en una praxis continua hacia el hermano. Cumpliendo la Voluntad Divina, el hombre busca incansablemente el actuar de Jesús para asemejarse a Él.
EL DON DE LA FORTALEZA: se enfatiza en la Fe, al vivir cuanto sucede al hijo de Dios con el heroísmo de los mismos mártires. Este don fortalece la perseverancia y la firmeza, confiando totalmente en Dios que no se aleja del hombre.
EL DON DEL TEMOR DE DIOS: dota a la criatura humana de la voluntad necesaria para apartarse de lo que le lleve a caer en el mal, para obrar, vivir y actuar en la Voluntad Divina.
EL MANTENERSE DE LA MANO DE NUESTRA Y VUESTRA REINA Y MADRE DE TODO LO CREADO EN ESTE INSTANTE, ES RECIBIR CONSTANTEMENTE LA FUERZA PARA NO CLAUDICAR. El mundo y sus maquinaciones han intensificado su lucha para desviar al Pueblo de Dios, siendo que el mal pulula por toda la Tierra y el hombre gusta del mal.
El hombre se ha materializado, idealiza un mañana seguro de comodidad y abundancia, olvidando que el obrar y actuar contrario a la Voluntad Divina, atrae las calamidades sobre la humanidad, llevando a que los elementos rechacen al hombre al no reconocerle.
Pueblo de Dios, la guerra se mantiene ante ustedes, pende de un pensamiento de algún o algunos dirigentes de una potencia, para adelantarse por temor a no ser derrotado para que se ejecute ese paso, que llevará a la humanidad a enfrentar LA TERCERA GUERRA MUNDIAL.
La convulsión en lo espiritual, en lo político, en lo material y en lo moral, es altamente estremecedora para la humanidad. Es dar un paso y el hombre va cayendo en el abismo del mal. El hombre tiene que tomar una fuerte y firme decisión para que salve su alma, decisión que tiene como cimiento la FE.
AUNQUE PAREZCA QUE EL MAL DOMINA, EL MAL NO TRIUNFA, LA TRINIDAD SACROSANTA ES POR SOBRE TODO Y EN TODO POR LOS SIGLOS DE LOS SIGLOS, AMÉN.
El vandalismo y la persecución crecen contra lo que representa a Nuestro Rey y Señor Jesucristo, contra lo que representa a nuestra Reina y Madre de todo lo Creado y contra los fieles de Dios. Esto llegará a generalizarse, no deben temer por ello ya que deben SALVAR EL ALMA: por ello SOY ENVIADO.
El poder de la Masonería y los Illuminati, es altamente catastrófico para la humanidad, pues se infiltraron en todo ámbito del hombre, ustedes lo saben, las altas esferas del mundo poseen conocimiento sobre ello y tratan con ellos, aparentando no saberlo para no comprometerse ya que no les interesa la salvación de las almas.
Pueblo de Dios, la lucha entre el bien y el mal inicia con la envidia y la división, ustedes sean firmes, mantengan la FE sin permitir que la tibieza les invada.
Oren hijos, oren para que no sea tergiversada la Palabra de Nuestro y vuestro Rey y Señor Jesucristo.
Oren hijos, oren por Hawaii, la naturaleza lleva a erupcionar fuertemente al volcán Kilauea y a estremecer a los volcanes Mauna Loa y Kilauea.
Oren hijos, la humanidad es espectadora del padecer de sus hermanos, cesará el ser espectador para entrar todos a ser actores de la historia de la humanidad. Prepárense para el Aviso.
–San Miguel Arcángel a Luz de María – 05.SEP.2019

English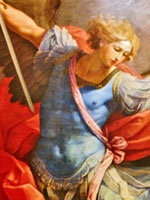 YOU NEED TO GIVE YOURSELVES TO DIVINE LOVE WITHOUT RESTRICTIONS, AT THIS GREAT STAGE IN WHICH HUMANITY TRANSITS: "THE ERA OF THE THIRD FIAT, THE ERA OF THE HOLY SPIRIT" (Jn 16:13).
In this Age, the Devil finds himself wandering from end to end in search of the slightest opportunity to reign through division, which is the cause of the fall of every good purpose of man.
Prepare yourselves beloved People of God, growing in the gifts of the Holy Divine Spirit (Is 11,1-4):
THE GIFT OF WISDOM: in which charity shines and the creature understands that God's Plan must be exalted above all things and must not be hindered.
THE GIFT OF UNDERSTANDING: enlightens the human creature to penetrate clearly into the truths revealed by God.
THE GIFT OF COUNSEL: by which you can discern the options presented to you, for this you have to achieve with this gift, the knowledge of listening and helping the neighbors. "He will not judge by appearances, nor will he sentence by ear. He will judge the weak with justice, and will righteously sentence the poor of the earth" (Is 11, 3-4):
THE GIFT OF KNOWLEDGE: it is not what the world believes, instead it is when in each one's interior, God reveals to the human creature what He knows about each one of you.
THE GIFT OF PIETY: this gift allows you to act with your brothers and sisters in a continuous praxis towards the neighbor. Fulfilling the Divine Will, man tirelessly seeks Jesus' works to resemble Him.
THE GIFT OF FORTITUDE: it is emphasized in Faith, by living everything that happens to a child of God with the heroism of the very same martyrs. This gift strengthens perseverance and firmness, totally trusting in God who does not depart from man.
THE GIFT OF FEAR OF GOD: gives the human creature the necessary will to depart from what leads him to fall into evil; to work, live and act within the Divine Will.
KEEPING HAND IN HAND WITH OUR AND YOUR QUEEN AND MOTHER OF ALL CREATION IN THIS INSTANT, IS TO CONSTANTLY RECEIVE THE STRENGTH NEEDED NOT TO GIVE UP. The world and its machinations have intensified their struggle to divert the People of God, since evil swarms throughout the Earth and man likes evil.
Man has materialized himself, idealizes a safe tomorrow with comfort and abundance, forgetting that acts and works contrary to the Divine Will attract calamities upon humanity, leading the elements to reject man as they do not recognize him.
God's people, war stands before you, hanging from the thoughts of one or some leaders of a superpower, to move in advance fearing not being defeated, so that stage may be executed, which will lead humanity to face THE THIRD WORLD WAR.
Convulsion in the spiritual, political, material and moral is highly shocking for humanity. It is taking just a step and man falls into the abyss of evil. Man has to make a strong and firm decision to save his soul, a decision that is based on FAITH.
ALTHOUGH EVIL MAY SEEM TO DOMINATE, EVIL DOES NOT TRIUMPH, THE HOLY TRINITY IS ABOVE ALL AND IN ALL FOR THE CENTURIES OF THE CENTURIES, AMEN.
Vandalism and persecution grow against what represents Our King and Lord Jesus Christ, against what represents our Queen and Mother of all Creation and against the faithful of God. This will become generalized, you should not fear for this since you must SAVE THE SOUL: that is why I AM SENT.
The power of Freemasonry and the Illuminati is highly catastrophic for humanity, for they infiltrated every realm of man, you know it, the high spheres of the world possess knowledge of it and deal with them, seeming not to know it so as not to compromise themselves since they are not interested in the salvation of souls.
People of God, the struggle between good and evil begins with envy and division, be firm, keep FAITH without allowing lukewarmness to invade you.
Pray children, pray that the Word of Our and your King and Lord Jesus Christ may not be misrepresented.
Pray children, pray for Hawaii, nature leads to a strong eruption of the Kilauea volcano and to a shaking of the Mauna Loa and Kilauea volcanoes.
Pray children, humanity is a spectator of the suffering of its brothers, it will cease to be a spectator to become everybody actors in the history of humanity. Prepare for the Warning.
–St. Michael the Archangel to Luz de Maria – Sep. 05, 2019