Español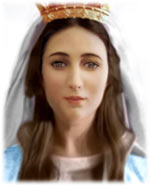 HIJOS MÍOS, ¡ATIENDAN POR FAVOR!… El Anticristo camina en el mundo, se encuentra actuando en el mundo, se encuentra moviendo sus tentáculos para enfrentarles a ustedes, para ultrajarles y atropellarles, para llevarlos a que cometan más pecados, para desesperarles, para desestabilizarles emocionalmente. Él mueve todos los tentáculos que posee para ir en contra de Mis hijos y ustedes no reaccionan ante esto.
Están acostumbrados a no pensar, a no discernir, a no tomar consciencia, a no pensar en las consecuencias de sus actos porque caminan en masa, así les han masificado para que la mayoría sea la que domine y les arrastre, pero ustedes: ¿no piensan en la Vida Eterna o en el sufrimiento de las llamas del infierno?, y lo digo aun en contra de los que dicen que el infierno no existe, que se vive en la Tierra, pero las penas de la Tierra no son comparables a las penas del infierno, y la Misericordia Trinitaria es infinita, pero es justa y perdonará a quienes se arrepientan, no perdonará a aquellos que consientan en su vida con libertad el pecado y que actúen en contra de las Leyes Divinas. Esto deben tenerlo claro.
Grandes alianzas se dan en el mundo y olvidan la Revelación que les dice: "cuando se den grandes alianzas es cuando más cerca se encontrarán de las grandes tribulaciones." (Cf. 1 Tes 5:3)
Hijos, no piensan en una Tercera Guerra Mundial debido a que miran una aparente paz, pero la Tercera Guerra Mundial inició hace bastante tiempo atrás y esta avanza sigilosamente, de un lugar a otro enardeciendo a los hombres, levantando las llamas de la guerra.
DEBEN PREPARARSE MATERIALMENTE, PERO ANTES DE ELLO…
¡PREPÁRENSE EN EL ESPÍRITU!, LLEGUEN A MI HIJO Y VIVAN EN PAZ CON ÉL.
HIJOS MÍOS, RECAPACITEN Y SEA CADA UNO DE USTEDES, UN PORTAVOZ DE VOZ DE ESTA MADRE. LLEVEN ESTA PALABRA A SUS HERMANOS, SEAN HIJOS VALIENTES. HÁBLENLES DEL AMOR MISERICORDIOSO DE LA TRINIDAD SACROSANTA Y DE ESTA MADRE A AQUELLOS QUE, CONOCIENDO ESE AMOR, HAN DECIDIDO RENUNCIAR A ÉL PARA CONTINUAR EN LOS PLACERES DEL MUNDO Y DE LA CARNE.
—Santísima Virgen María a Luz de María – 08.FEB.2019

English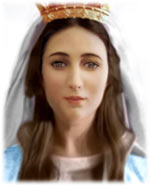 MY CHILDREN, PLEASE ATTEND!… The Antichrist walks in the world, he is acting in the world, he is moving his tentacles to confront you, to outrage and run you over, to lead you to commit more sins, to despair, to emotionally destabilize you. He moves all the tentacles he possesses to go against My children and you do not react to this.
You are accustomed not to think, not to discern, not to become conscious, not to think about the consequences of your actions because you walk in mass, you have been massified this way so that the majority is the one that dominates and drags you, but you: do not think of the Eternal Life or the suffering of the flames of hell, and I say it even against those who say that hell does not exist, that it is lived on Earth, but the punishments on Earth are not comparable to the punishments of hell, and the Trinitarian Mercy is infinite, but it is just and will forgive those who repent, it will not forgive those who freely consent sin in their lives and who act against the Divine Laws. This must be clear to you.
Great alliances occur in the world and you forget the Revelation that says: "when great alliances are given, it is when they will find themselves closest to the great tribulations." (see 1 Thes 5:3)
Children, you do not think of a Third World War because you see an apparent peace, but the Third World War began quite a long time ago and it advances stealthily, from one place to another enraging men, raising the flames of war.
YOU MUST PREPARE MATERIALLY, BUT BEFORE THAT…
PREPARE YOURSELVES IN THE SPIRIT!, REACH MY SON AND LIVE IN PEACE WITH HIM.
MY CHILDREN, RECONSIDER, BE EVERY ONE OF YOU, A VOICE SPOKESMAN OF THIS MOTHER. TAKE THIS WORD TO YOUR BROTHERS AND SISTERS, CHILDREN, BE BRAVE. TELL THEM OF THE MERCIFUL LOVE OF THE SACRED TRINITY AND OF THIS MOTHER TO THOSE WHO, KNOWING THAT LOVE, HAVE DECIDED TO GIVE UP TO IT TO CONTINUE WITH THE PLEASURES OF THE FLESH AND THE WORLDLY.
—Blessed Virgin Mary to Luz de María – Feb. 08, 2019