Español

Oren hijos Míos, oren por sus hermanos de Venezuela y de Nicaragua, ante tanto dolor, soliciten la intercesión de Mi Madre con una cadena de oración este 12 de diciembre, iniciando a las 3 de la tarde de cada país con el Santo Rosario.
Pueblo Mío, permanezcan atentos, rugirán volcanes, el Etna (Italia) y el Monte Pelée (Martinica, Antillas). Oren desde ya por esos hijos Míos que padecerán.
—Nuestro Señor Jesucristo a Luz de María – 11.DIC.2018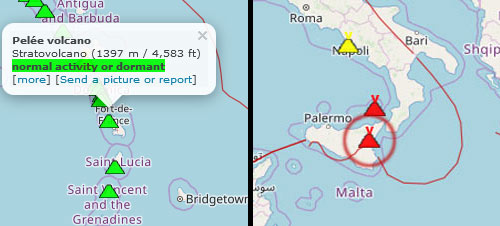 English

Pray, My children, pray for your brothers and sisters in Venezuela and Nicaragua, in the face of so much pain, request the intercession of My Mother with a chain of prayer on December 12th, beginning at 3 o'clock in the afternoon of each country with the prayer of the Holy Rosary.
My People, remain attentive, volcanoes will roar, the Etna (Italy) and the Mount Pelée (Martinique, Lesser Antilles). Pray from now on for those children of Mine who will suffer.
—Our Lord Jesus Christ to Luz de María – Dec. 11, 2018