Español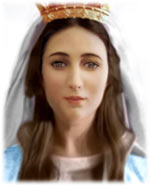 Adelanten el paso, amados Míos, ante tanta deshumanización el mundo entra en el caos social y se perturban las naciones como una peste que avanza sin detenerse, sino al contrario, arde como el fuego.
LOS APÓSTOLES DE LOS ÚLTIMOS TIEMPOS NO SON UN GRUPO SELECCIONADO, SINO SON AQUELLAS CRIATURAS HUMANAS QUE SE CONVIERTEN Y SE COMPROMETEN A VIVIR EN LA VOLUNTAD TRINITARIA SIENDO UNA VOZ MÁS QUE SE ELEVA PARA DESPERTAR A SUS HERMANOS ANTES DE QUE SEAN PRESA DE LAS REDES DEL MAL.
Los huracanes han aumentado su fuerza y su desplazamiento ha sorprendido a pueblos enteros, el deshielo acelera el padecer de quienes viven en zonas costeras y ante esto los gobernantes, conocedores de cuanto acontece en la Tierra, deben tomar precauciones para con sus pueblos.
Amados hijos, la impiedad se generaliza, la persecución en contra de Mis Hijos predilectos se acentúa, la Iglesia de Mi Hijo es despojada de varios de sus templos, aun así no se desanimen, continúen firmes en la fe, con las pruebas llega el consuelo de lo alto, el Ángel de Paz que llegará a dar aliento a los desanimados, a los abatidos, a los cansados, a los que desean convertirse.
La Humanidad continúa padeciendo por la Naturaleza, el astro sol en una de sus tormentas solares abatirá las comunicaciones y la desesperación del hombre será inmensa.
LLEGAN CAMBIOS QUE CONFUNDEN A MIS HIJOS, A AQUELLOS QUE DESEAN VIVIR APEGADOS A LOS MANDAMIENTOS.
—Santísima Virgen María a Luz de María – 06.DIC.2018

English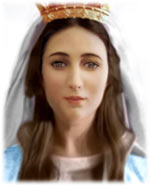 Step up the pace, beloved ones, before so much dehumanization the world enters into social chaos and nations are disturbed like a plague that advances without stopping, but on the contrary, burns like fire.
THE APOSTLES OF THE END TIMES ARE NOT A SELECTED GROUP, BUT ARE THOSE HUMAN CREATURES THAT CONVERT AND COMMIT TO LIVE IN THE TRINITARIAN WILL, BEING ONE MORE VOICE THAT RISES UP TO AWAKEN THEIR BROTHERS AND SISTERS BEFORE THEY ARE PREY TO THE NETS OF EVIL.
Hurricanes have increased their strength and their displacement has surprised entire peoples, the thaw accelerates the suffering of those living in coastal areas and in response to this the rulers, aware of everything that happens on Earth, must take precautions for their Peoples.
Beloved children, impiety is generalized, persecution against My favorite Children is accentuated, the Church of My Son is stripped of several of its temples, yet do not be discouraged, remain steadfast in faith, with the trials comes the consolation from above, the Angel of Peace who will come to give encouragement to the discouraged, the dejected, the tired, to those who want to convert.
Humanity continues suffering from Nature, the sun in one of its solar storms will bring down communications and man's desperation will be immense.
CHANGES COME THAT CONFUSE MY CHILDREN, THOSE WHO WANT TO LIVE ACCORDING TO THE COMMANDMENTS.
—Blessed Virgin Mary to Luz de María – Dec. 06, 2018