Español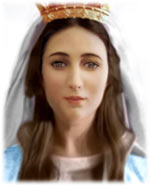 EN ESTE INSTANTE MIS HIJOS TIENEN QUE SALIR AL ENCUENTRO DE SUS HERMANOS PARA QUE NO TENGAN MIEDO DE ACERCARSE A DIOS, SINO TEMAN PERDER LA SALVACIÓN ETERNA, PARA QUE NO LES ENGAÑE EL DEMONIO LLEVÁNDOLES A MANTENERSE DENTRO DEL CONFORT DE LOS TIBIOS.
AMADOS HIJOS DE MI CORAZÓN INMACULADO, NO ES ESTE EL INSTANTE PARA QUE MIS HIJOS SE LEVANTEN UNOS EN CONTRA DE OTROS, SINO ES EL INSTANTE PARA QUE EN LA COMUNIÓN DE LOS SANTOS SE AUXILIEN, SEAN FRATERNOS Y TOMEN CONCIENCIA DE LA NECESIDAD DE QUE EL PUEBLO DE MI HIJO NO SE CONFORME CON UNA FE PASIVA, SINO QUE CADA UNO SE COMPROMETA A LLEVAR MÁS ALMAS HACIA MI HIJO.
CONSAGREN LOS HOGARES AL SAGRADO CORAZÓN DE JESÚS Y A MI INMACULADO CORAZÓN. USTEDES OBEDIENTES A LA PALABRA DIVINA, LABOREN SIN DETENERSE PARA QUE SUS HERMANOS DESPIERTEN Y MIREN LA OSCURIDAD EN LA QUE SE SUMERGE EL HOMBRE CUANDO SE APARTA DE MI HIJO.
Permanezcan atentos, el instante se acentúa y con él el padecer de Mis hijos llega a través de la Naturaleza y del mismo hombre, que con gran alarde hace gala del poder armamentista que posee y de las amenazas para la acción.
—Santísima Virgen María a Luz de María – 25.NOV.2018

English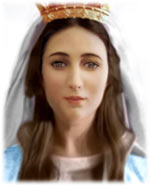 IN THIS INSTANT MY CHILDREN HAVE TO GO OUT TO MEET THEIR BROTHERS AND SISTERS SO THEY MAY NOT BE AFRAID OF APPROACHING GOD, BUT FEAR INSTEAD LOSING ETERNAL SALVATION, AND THE DEMON MAY NOT DECEIVE THEM TAKING THEM TO STAY WITHIN THE COMFORT OF THE LUKEWARM.
BELOVED CHILDREN OF MY IMMACULATE HEART, THIS IS NOT THE MOMENT FOR MY CHILDREN TO RISE UP AGAINST EACH OTHER, BUT IT IS THE INSTANT TO ASSIST EACH OTHER IN THE COMMUNION OF THE SAINTS, TO BE FRATERNAL AND TO BECOME AWARE OF THE NEED FOR THE PEOPLE OF MY SON NOT TO CONFORM WITH A PASSIVE FAITH, BUT FOR EVERY ONE OF YOU TO COMMIT TO BRING MORE SOULS TO MY SON.
CONSECRATE YOUR HOMES TO THE SACRED HEART OF JESUS AND TO MY IMMACULATE HEART. YOU OBEDIENT TO THE DIVINE WORD, LABOR WITHOUT STOPPING FOR YOUR BROTHERS TO AWAKEN AND SEE THE DARKNESS IN WHICH THE MAN SUBMERGES WHEN HE DEPARTS FROM MY SON.
Stay tuned, the moment is accentuated and with it the suffering of My children comes through Nature and from man himself, who boasts with great flaunting the arms power he possesses and the threats to action.
—Blessed Virgin Mary to Luz de María – Nov. 25, 2018